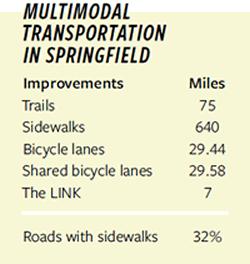 In 2004, the focus of transportation improvements was primarily on roads. Today, investment is increasing for other transportation options. In 2004, there were 60 miles of trail in the region. By 2018 the system had expanded to 75 miles of trail, and another 1.5 miles are planned in 2019. But that investment in trails and sidewalks has been spread throughout the region, resulting in fragmented improvements. We now need to increase connectivity for a robust and safe system that provides for transportation options for everyone.
BLUE RIBBONS
In April 2019, voters within the Springfield city limits continued to invest in transportation with the reauthorization of the 1/4-cent Capital Improvement Sales Tax. A portion of this tax funds transportation projects including street and sidewalk construction, and sidewalk maintenance.
The city, county and Missouri Department of Transportation continue to partner to leverage resources. The 1/8-cent Transportation Sales Tax will be brought to the citizens for renewal in 2020. This joint initiative is essential for the construction of additional transportation projects to meet the growing demand resulting from population and employment growth.
The Ozarks Transportation Organization developed a regional trail plan in 2017 that detailed over 88 miles and $125 million in identified trail needs. The goal of the plan is to connect communities with trails. The OTO Board of Directors is electing to allocate an additional $1.6 million to fund trail improvements.
Another area strength: the multimodal focus of transportation improvements. The SGF Yields program was developed by the City of Springfield to initiate a cultural change to make Springfield more pedestrian friendly. The campaign uses education and awareness to encourage this change. Mr. Walker, a life-size statue, was developed to serve as a visible reminder to both drivers and pedestrians to use and respect crosswalks.
The City of Springfield has undertaken extensive effort to improve sidewalks throughout the community resulting in increasing miles of trails, sidewalks and bicycle lanes.
The LINK, a route along streets with low traffic volume and slow speed through Springfield's core, links existing and planned greenway trails and activity centers. The ultimate goal is to create a network of routes for people that walk, bicycle and drive that creates an experience of comfort and safety. Another 1.6 miles of improvements are planned in 2019 along The LINK.
City Utilities operates a bus transit system in Springfield that has half-hour service on six routes and one-hour service on six routes during the weekday peak hours with more limited weekend service. A peer study that benchmarked CU with other transit agencies concluded that CU balances a sizable service territory with low population density on moderate operating expenses.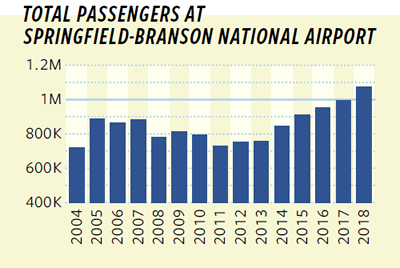 Springfield and Greene County continue to grow as a hub of regional excellence. The Springfield-Branson National Airport broke a milestone in 2018 exceeding 1 million annual passengers for the first time and has grown more than 40% over the past five years. Today, more than 30 daily flights connect six major airline hubs to Springfield, and less-than-daily service is available to seven leisure destinations. The options provide excellent access and flexibility to the national air transportation system.
More than 30 million pounds of air cargo were transported in 2018 through nightly UPS and FedEx operations based at the airport. General aviation activity continues to grow with four new corporate hangars being developed and Ozarks Technical Community College establishing an academic flight training program. Major expansions to car rental and auto parking facilities will be completed in 2019 to keep up with growing demand.
The Wilson's Creek Greenway achieved National Recreation Trail status in 2018. Wilson's Creek Greenway is the fourth trail in the Ozark Greenways system to earn the National Recreation Trail designation. Galloway Creek Greenway, in east Springfield, became Missouri's first National Recreation Trail in 2003.
RED FLAGS
Insufficient funding for transportation has been an ongoing issue for the state and for the nation. Both national and state funding are dependent upon a per-gallon fuel tax. As vehicles become more fuel efficient, fewer gallons are purchased resulting in declining revenue.
In addition, inflation has resulted in erosion of the purchasing power of the per-gallon tax. Congress has been willing to supplement the fuel tax with general income tax revenue in the short term, but a long-term solution is needed. In Missouri, the legislature continues to seek a funding source to ensure that the state can match federal grants, maintain the current system and add lanes as the population increases.
Multimodal improvements continue to appear on the wish list of many local citizens. While sidewalk and trails continue to be constructed, gaps in the network continue to limit mobility options for those without access to a car.
The City of Springfield recently completed an Americans with Disabilities Act transition plan that identified $30 million in needed sidewalk improvements. Funding for these required improvements has yet to be identified. In order to complete the ADA-required improvements, funding will likely be diverted from the construction of new facilities.
Transit service is still essential to many in the community. OATS, which provides transit service to the elderly and disabled, has cut services to some disabled customers in 2019 because of funding issues. City Utilities is continuing to provide fixed-route service at 30-minute and one-hour intervals. Funding limits the expansion of service beyond current levels which is desired by riders.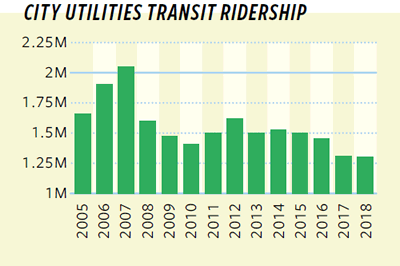 City Utilities transit has continued to see a decline in bus ridership. This shift might be due to improving economic conditions and continued low fuel prices.
Transit usage is beneficial, however, to reduce congestion and contributes to community health in terms of reduced emissions and walking to destinations from transit stops.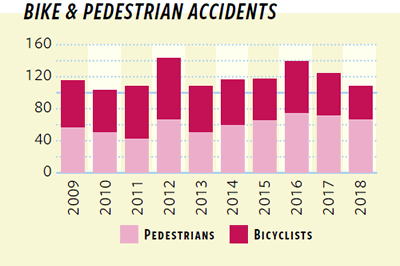 The afternoon congestion levels continue to rise, and crowded roads can lead to traffic safety issues. The region continues to add population and jobs and is unable to provide adequate infrastructure to support the growing demand. There were 6,412 accidents in Springfield in 2017 and 5,885 accidents in 2018.