The Springfield community values public education by sharing its time, talent, and treasure. With the community's financial and volunteer support, the 24,599-student district is looking forward to continued success and improvement in the years ahead.
Springfield faces increasingly complex issues that impact students, including those with special needs and mental illness, as well as a growing number of children who face residential instability and other stressors in their family lives. The district's work in support of its strategic plan is focused on engaging, relevant and personal learning experiences for every learner.
BLUE RIBBONS
Since 2000, Springfield voters have approved seven of nine ballot initiatives to support capital projects and increase operating funds for the school district. On April 2, 2019, Springfield voters passed Proposition S, which will provide $168 million to address 39 high-priority projects to increase safety and security for 31 sites, expand early childhood programing, renovate Williams, Hillcrest and Sunshine, and newly construct Boyd, Delaware and Jarrett.
The success of Proposition S was rooted in a grassroots effort that began with the appointment of a 30-member community task force, which spent five months studying the district's facility needs. The study included touring various facilities, learning about the enrollment, feeder patterns and district demographics, and reviewing the Springfield Public Schools Strategic Plan and the Facility Master Plan. Furthermore, the task force reviewed the results of the previous elections. This study led to prioritizing the critical needs of the district and resulted in the development of Proposition S.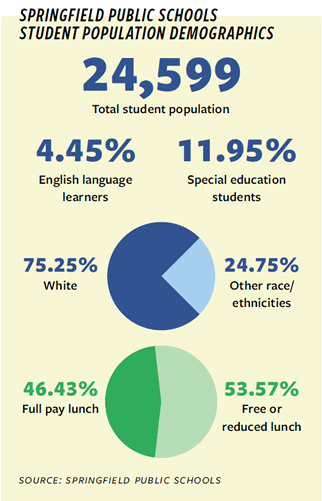 In addition to voter support, Springfield Public Schools has more than 200 active partners who provide resources, support strategic-plan initiatives, and assist classroom teachers. During the 2018–19 academic year, 4,200 volunteers logged more than 35,000 service hours by mentoring students, assisting with landscaping projects, tutoring and purchasing school supplies for under-represented and under-resourced students. Furthermore, hundreds of thousands of dollars come through generous partners that include The Foundation for Springfield Public Schools, Care to Learn, Springfield-Greene County Library District, Ozarks Food Harvest, local businesses and faith-based groups.
Springfield Public Schools continues to analyze, research and prioritize best practices to address the equity issues facing under-represented and under-resourced students. These best practices concentrate on closing the student achievement gap and expanding student support services. Since 2016, the district's Explore summer learning program has focused on supporting under-resourced learners. Its mission has been to ensure that all students explore fun, engaging, relevant, and personal summer learning experiences driven by student passion, inquiry, and community connections.
Explore enrollment grew from 10,607 students in 2016 to 11,596 in 2018. As a means of increasing attendance, each site used a variety of resources to incentivize students to attend every day possible. While different sites had slightly different results with this practice, attendance was up slightly overall at 85.27%. This is up from 78.98% in 2016 and 81.41% in 2017. This increase may also be attributed to the decrease in seated enrollment and the increased participation in virtual courses. During Explore 2018, students qualifying for free/reduced lunch made up 54.4% of all enrollment. This percentage closely aligns to the 2017-2018 district overall free/reduced lunch rate of 53.5%.
Other important supports for under-resourced students and their families include the meals and transportation. Free breakfast and lunch is served at each qualifying Explore site to all students, as well as to community patrons who have an interest and who register at the site office. Over the past three provides a three year comparison of meals served, including Explore 2018, with 312,437 meals served. In addition, all students who are bus eligible are transported between their designated Explore sites. All students who enroll in Explore are also transported to and from course specific experience destinations. During Explore 2018, the Springfield Public Schools transportation department routed and ran 150 bus routes, and logged nearly 137,000 miles transporting students.
Partnerships and experiences have continued to grow in numbers each year. In 2016, Explore started with 20 business partners. That number grew to 68 business partners in 2018. When surveyed during Explore 2018, 100% of partner respondents either agreed/strongly agreed when asked if their organization is likely to partner with SPS in the future to offer learning experiences for students; and 91% of student respondents liked Explore and felt that the field experiences added to their learning.
Launch virtual courses began as SPS Online in 2012 with a strategic decision to build online course content in-house and move away from for-profit providers. In 2017, Launch began offering 48 courses to member districts statewide. At the conclusion of the 2018 school year, 88 school districts from across the state had joined Launch and began offering virtual courses to their students. Member districts filled 12,504 virtual course enrollments in the first year, including 7,325 during the Explore summer session.
In 2018, the Mayor's Commission for Children, in conjunction with Missouri State University, produced a kindergarten readiness report which stated 26% of kindergarten students were not prepared with the foundational skills to be successful in kindergarten. To increase access to high quality early childhood education, Springfield Public Schools maximized state funding to increase pre-school access for students and families with the creation of the Campbell Early Childhood Center. The new center provided access to 200 additional 4-year-olds, bringing the district's total number of high quality early childhood classrooms to 32. In comparison, in 2004, Springfield Public Schools had five preschool classrooms. With the passage of Proposition S, the district will build a new early childhood center in the southeast quadrant of the city, which will increase access by adding 400 seats over the next two years, with a goal of 50 classrooms serving over 1,000 preschool students by 2020-21. Expanded access to quality early childhood education provided by trained teachers has potential to increase the number of students ready for kindergarten.
The district is also expanding mental-health services to help students deal with adverse childhood experiences, which can impede a child's social, emotional and cognitive development. The results of the 2018 Missouri Student Survey indicate that 18.8% of students in grades 6–12 have seriously considered suicide during the past 30 days—an increase of 6.9% since 2010. In addition, the survey shows that 34.5% of students reported they had been bullied on school property. In 2010, 26.6% of students reported they had been bullied. The district has responded with the adoption of Signs of Suicide, a best practice program provided in all ninth-grade health classes.
In addition, middle school counselors are teaching the curriculum through their classroom counseling lessons. SOS is the only youth suicide prevention program to demonstrate an improvement in students' knowledge and adaptive attitudes about suicide risk and depression, as well as a reduction in actual suicide attempts. In conjunction with SOS, recent changes in Medicaid eligible services means that districts are now able to be reimbursed for behavioral health services that are not part of an IEP. This is a significant change which opened the door for providers to assist students with mental health issues and receive services in schools.
In 2019, Springfield Public Schools entered into an agreement with Burrell Behavioral Health to provide mental-health support as a pilot initiative within the Hillcrest feeder pattern, which serves 4,000 students. Recent changes in Medicaid-eligible services opened the door for providers to assist students with mental-health issues and receive services in schools.
RED FLAGS
Students who are academically successful are more likely to graduate from school and have stable employment later in life. When analyzing state testing results, college and career preparation, and graduation rates, the district has significant achievement gaps in each between students who qualify for free and reduced lunch and those who are on full-pay lunch status. Furthermore, the district also shows major gaps between white student achievement and students of color.
Among the results:
Grade 3 to 5 Math: In sum, 37% of all third through fifth grade students were proficient or advanced, compared to state 45%. When data are disaggregated by ethnicity, total performance indicates that White students performed the highest (40%), with Hispanic students performing at 27% and Black students performing at 17% proficient and advanced.
Grade 6 to 8 English Language Arts: In sum, both the district and state reported 47% of all sixth through eighth grade students were proficient or advanced. When data are disaggregated by ethnicity, total performance indicates that White students performed the highest (50%), with Hispanic students performing at 33% and Black students performing at 20% proficient and advanced.
College and career readiness—ACT, SAT, ASVAB: In sum, 67% of graduated students scored at or above the state standard in 2018 compared to the state target of 71.5%. Students on full-pay lunch status scored the highest (77%), and students who qualified for free or reduced lunch scored the lowest (51%)—a difference of 26 percentage points. When data are disaggregated by ethnicity, white students performed the highest (70%), Hispanic students were next (61%), and black students performed the lowest (37%).

Graduation rates

: Overall, the four-year graduation rate for the class of 2018 was 86% as compared to the state four-year graduation rate of 89%. When data are disaggregated by lunch status, free students were the lowest (77%). When graduation data are disaggregated by ethnicity, white students are 87%, Hispanic students are 78%, and black students have the lowest graduation rates at 76%.
When analyzing the data, it's clear that students from historically under-represented backgrounds and students of poverty struggle to perform as compared with other peer groups. This past year, the district developed priority metrics as a quick reference for district and school leaders to assess the performance of grade spans, lunch status, and ethnicity groups. This new level of data transparency guides teachers, leaders and community partners to re-evaluate how the district is serving our most at-risk students. Increased awareness has led to the development of new district-level strategies aimed at underperforming student populations. This work addresses student engagement, student attendance, support programing, graduation rates and diversifying the district's workforce.
In 2019, the district convened the Equity and Diversity Advisory Council with more than 40 members from the community. The council is assessing what actions the district should deploy to ensure that all students excel through purposeful engagement, rigorous instruction, cultural awareness and relevant education experiences with an intentional focus on historically under-represented and under-resourced groups. Council members will develop a specific list of recommendations and action steps to help positively impact the district's strategic work.