Over the years, collaborative spirit drove the Springfield housing community to identify critical gaps and barriers to high-quality, affordable, safe and accessible housing. Since 2005, the community has come so far, but issues remain. Tracking the successes will help chart the course to better housing options that serve all citizens.
BLUE RIBBONS
Unsanitary conditions, hoarding, poor maintenance of aging housing stock and lack of physical accessibility have left many families in inadequate housing. Coalition efforts such as Safe and Sanitary Homes and modification and repair collaborations have improved overall quality. While improvements make this a Blue Ribbon, the organizations involved in these efforts are concerned about the limited financial resources available. Labor and time have not allowed consistent and stable progress, and with an aging population and housing stock, it is becoming more difficult to meet the demand.
Programs like HELP made up of Catholic Charities, Habitat for Humanity, Council of Churches Connection Handyman and OACAC have come together to address certain neighborhoods where housing stock is aging and those homeowners who are unable to afford repairs and upkeep are getting necessary help. Other organizations like United Way's Hands on for Seniors looks at how to utilize volunteers to clean up yards and other home repairs for those over 60. Empower: Abilities (formerly SCIL) is another organization who works with seniors and people with disabilities to modify homes and make them accessible. They can work with homeowners and renters. All these efforts require funding and labor and with limited resources and an aging population and housing stock it is becoming more difficult to meet the demand.
Initially, access to homeless services was a Red Flag because of little systemwide coordination, but several community initiatives including the streamlining of services that connect homeless individuals to supports and resources have transformed this area into a Blue Ribbon. While this improvement doesn't bring more beds or financial assistance into our community, it ensures that we have a systemwide response to homelessness that is person-focused and uses available funding in the most efficient way possible. It also focuses resources toward the most vulnerable individuals and families experiencing homelessness. During the 2017–18 fiscal year, Community Partnership of the Ozarks' One Door completed an average of 220 assessments for housing assistance each month, up from 170 per month the previous fiscal year.
The community saw these improvements to high-quality service and efficiency, which are essential to sustainability:
Coordination of services: The Springfield Affordable Housing Center was the realization of a longtime community dream. This year the SAHC will move and re-open as the O'Reilly Center for Hope, which will offer expanded services and on-site partners — making it easier for those experiencing a housing crisis to access resources.
Serving youth and families: In 2017, Springfield Public Schools launched Wednesday Connection. This program attempts to reduce and minimize barriers to accessing essential services and provides case management to qualifying homeless SPS youth and families in a centralized location every other week. In its first year, the program served 72 families. Of those families, 48 households had court ordered evictions, 48 had a parent/caregiver jailed, and 51 households were impacted by domestic violence.
Serving unsheltered homeless: Thanks to extensive support from the faith community, a crisis cold-weather shelter for women was opened, which was a gap in our community for several years. Community awareness and engagement are essential to decreasing the homeless population.
Springfield is growing in awareness and use of universally designed principles. UD homes allow the widest possible range of people to access and use every part of their home, no matter their age or ability level. The Affordable Housing Action Board and the Springfield Community Land Trust are examples of agencies that incorporate UD features in their affordable home developments. In 2017, Missouri Housing Development Commission began requiring all new construction include UD principles.
Innovations in funding resources have increasingly become a necessity. Eden Village stands out with an innovative approach to homelessness by using public and private partners to build a community of tiny homes for those who are chronically homeless or have disabilities while providing access to needed services. Not only is Eden Village an innovator in funding resources, but, through its partnership with Drury University, it has also incorporated UD features to increase access for residents. The Eden Village model has been so successful that it is now working on a second tiny-home project.
RED FLAGS
Historically, the need for emergency shelter and the number of youth and children experiencing homelessness have been identified as Red Flags in our community. Both, combined with the lack of flexible support available to immediately serve people experiencing homelessness, continue to be concerns. Intentional actions toward reducing the impact and severity of homelessness among the unsheltered and children must be a priority for this community.
Unsheltered homelessness continues to be an issue that must not be overlooked. According to the annual Every One Counts campaign, the total number of individuals experiencing homelessness on a given night is trending down. However, the number of individuals experiencing unsheltered homelessness has not decreased.
Our community lacks flexible funding and low-barrier housing necessary to meet the needs of individuals and families. On any given night, approximately 200 individuals are sleeping outside. According to the most recent Unsheltered Report, over 50% of unsheltered homeless are categorized as chronically homeless, meaning they have experienced homelessness for an extended period and have at least one disabling condition.
Emergency shelters in our community are often at capacity and continue to need more volunteer support. The number of children and youth experiencing homelessness within Springfield Public Schools has increased by 31% since the 2016–17 and 2017–18 school years.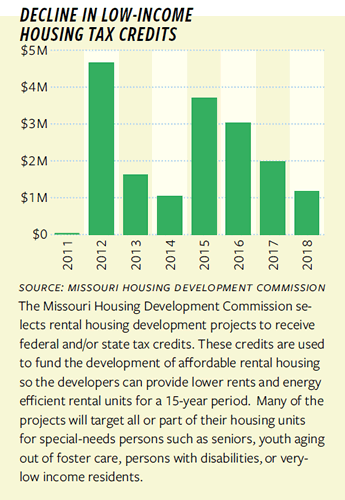 Affordable housing and homeless grant funding trends for the past nine years show moderate fluctuations. Tax-credit funding varies in three- to four-year cycles and is unreliable as a stabilized source. Federal Home Loan Bank grants offer area nonprofits some relief for housing and homeless projects, but over time, the cost for housing rehabilitation and new construction has outpaced the static funding levels. Cost drivers include a shortage of skilled trade workers, combined with increased homeless service costs, specialized care needs, and additional service methods derived through collaboratives. Sustaining the existing homeless services in addition to future housing projects will require diversity and innovation in nonfederal funding development and approaches. Shared information for homeless services maximizes the dollars to serve more families.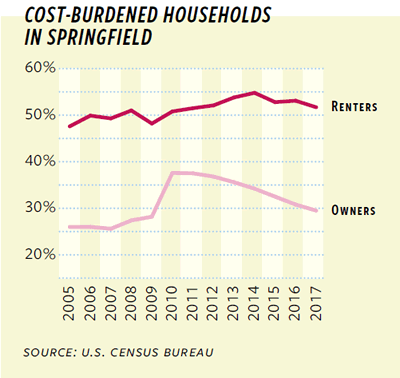 The availability of safe, high-quality and affordable housing remains a concern. The number of cost-burdened households, where more than 30% of household income is used for housing costs, has trended upward for renters and homeowners. From 2015 to 2017, the number of Springfield household renters decreased from 38.57% to 36.52% while home ownership increased from 61.43% to 63.48%. Rising utility costs, low household income, and availability of affordable homes contribute to this issue. Rising construction costs have also played a role. Affordability is what keeps housing out of reach for low-income families. As a community, we must keep vigilant to close this gap through continued collaboration.
Local programs such as Ozarks Area Community Action Corp. weatherization; the city's emergency loan, down-payment and rental assistance programs; and rehabilitation efforts by Habitat for Humanity and Catholic Charities of Southern Missouri are helping to stabilize and reduce household living expenses. Additionally, Springfield area developers contribute to the affordable housing inventory using state and federal tax credits and private funds.