Springfield and Greene County continue to engage citizens in meaningful ways through increased volunteerism structure, support for local educational and city infrastructure improvements, and nonprofit collaboration. Work in the region is hindered by ongoing fluctuation in the number of registered active voters, difficulties with changes in individual giving methods, and the ongoing challenge of low voter turnout during local elections.
BLUE RIBBONS
Volunteer access has gained structure. Volunteerism established through online channels has increased significantly recently with GivePulse (supported via Drury University and the Drew Lewis Foundation) and Volunteer Ozarks (supported through KY3 and United Way of the Ozarks). Both systems connect individuals with agencies for short- and long-term volunteerism opportunities and have resulted in increased involvement.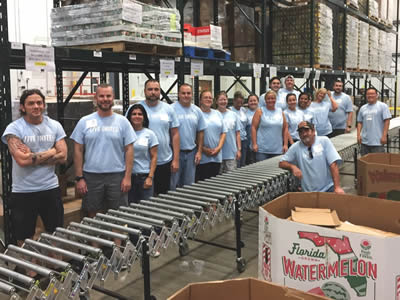 Volunteerism has also developed more depth. The Give 5 Program connects Greene County seniors to nonprofit organizations through free, cohort-style educational classes. More than 150 graduates have all committed to long-term community volunteer work. Additionally, Leadership Springfield has launched the Access Class, which provides two days of intensive community connection work in cohorts, and the Junior League of Springfield and Council of Churches of the Ozarks have seen increases in volunteerism in recent years.
The United Way Day of Caring and other United Way volunteer programs saw an increase in volunteers—22,230 in 2017 and 23,048 in 2018—but a decrease in the total number of volunteer hours: 513,422 in 2017 versus 432,158 in 2018.
Recent support for local infrastructure improvements shows a willingness to contribute to priority community needs. In April 2019, voters approved a $168 million Springfield Public Schools bond issue to support 39 priority building projects and the extension of the Springfield ¼-cent sales tax for 20 years, which supports capital improvements. Additionally, communities in and surrounding Greene County supported several school and civic proposals including education-focused approvals for the Logan-Rogersville, Strafford and Pleasant Hope school districts, and civic infrastructure approvals in Battlefield, Bois D'Arc, Walnut Grove and others.
Voters continue to have access to high-quality nonpartisan election information, thanks to the work of the League of Women Voters of Southwest Missouri. The league's "Voter's Guide" is produced for each federal and midterm election to help citizens in Greene, Christian and Webster counties understand the positions of candidates seeking election and to learn about proposed amendments and propositions.
Nonprofit and grant-funding organizations have grown and developed more collaborative methods in recent years. Large-scale collaborative efforts such as the Northwest Project, with more than 70 nonprofit partnerships engaged in the work, and Prosper Springfield, with more than 300 nonprofit partners across six committee groups, have worked to build structure around poverty reduction, a major community goal.
Additionally, local grantmaking efforts have shifted toward collaborative grantmaking with programs like the Darr Family Foundation Education and Literacy grant partnership. This program will provide the Every Child Promise and its partner agencies more than $1 million to impact early childhood and literacy. Furthermore, grantmaking foundations have increased collaboratively funded grant programs. For example, both the Community Foundation of the Ozarks and the Musgrave Foundation provide funding support for the Education and Literacy effort, and Musgrave and the CFO partnered with the Springfield Regional Arts Council to provide $40,000 in art-oriented grantmaking.
RED FLAGS
Registered voter counts have fluctuated in recent years. Changes by the Greene County Clerk's office in reporting inactive but registered voters as part of the total number of registered voters at any given election has affected tracking by the office. Inactive voters, defined by their lack of participation via returned mail by the Greene County Clerk's office to their mailing address, are no longer counted in the pool of registered voters. These voters can also be removed from the rolls after two federal election cycles have passed after a failed voter-registration card mailing.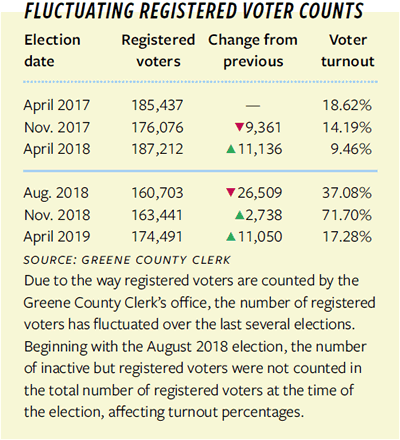 Inactive voters can still vote by updating their addresses through Election Day, but the change in reporting has affected turnout percentages. Elections in which inactive voters are included in the registered voter data show lower voter turnout than those in which the inactive voters are excluded from the total pool of registered voters. Voter turnout—with inactive voters excluded from the total number of registered voters reported—was 71.7% in November 2018 and 37.08% in August 2018. In April 2018, voter turnout was 9.46%, but that calculation included inactive voters.
Most notably, this change has brought the issue of inactive voters to public attention. Between April 2018 and August 2018, 26,509 voters were removed from the count of registered voters, a 14% decrease in registered voters in Greene County, mostly due to the issue of inactive voters' nonupdated addresses. Efforts to connect with and educate voters on the importance of updated voter registration address information upon moving is needed. Many of these nonupdated addresses may be linked to college students and residents with high mobility rates due to personal and financial circumstances.
Additionally, about one quarter of Greene County adults are not registered as active voters. Currently, Greene County's population includes more than 230,000 adults, yet the number of active voters was 174,491 as of April 2019.
Local elections also continue to show poor turnout. The April 2019 election, which included important decisions related to education and infrastructure, had a voter turnout of only 17.28% of total eligible active voters (inactive voters were not included in the calculation). Local issues significantly impact community needs and require community input, yet a very small margin of eligible adults are participating in these important elections. More work in educating eligible adults in Greene County must be undertaken to increase civic engagement in the local election process, including a larger volume of actively engaged deputy registrars who help register others to vote and larger public-awareness campaigns reminding individuals to update their addresses in voter records after moving.
Individual giving methods are changing, and agencies must alter fundraising and donor development methods to accommodate this change. For example, United Way of the Ozarks has seen a decline in its workplace-based annual campaign model. Total dollars raised in the annual campaign in 2018 were $2.5 million, with consistent decline each year since a peak of approximately $3 million in 2015. As national trends indicate ongoing reductions in institutional trust combined with changing donor-engagement needs, organizations must find new solutions and new ways to engage the community, particularly given individual donors still make up over 68% of charitable giving nationally.