With record-breaking attendance at decades-old institutions, the arts and culture sector in Springfield continues to drive economic impact to the region through its programming and collaborative efforts. At the same time, this area faces ongoing challenges, including lack of diversity at leadership levels, poor infrastructure support, and a continued struggle for sustainable funding.
BLUE RIBBONS
In 2015, the Springfield Regional Arts Council, along with 24 other regional arts and culture organizations, participated in Arts & Economic Prosperity 5, a study conducted in partnership with Americans for the Arts. A driving force behind this study stemmed from the 2015 Community Focus Report, in which "timely cultural data" was labeled a Red Flag. In the region, there has not been a similar study done, in size or scope, so this data will be a benchmark for future studies and data. The Springfield Regional Arts Council plans to participate in the next survey in 2021.
The results, mentioned in the 2017 Community Focus Report, demonstrate that the arts have a strong economic impact on the region. Driving in $26.9 million in revenue, $20.5 million goes back into household income, and supports 1,065 full-time jobs, both in the arts and non-arts sectors.
Of the $26.9 million, $17.1 million came from spending by audiences on dining, lodging, retail and tickets, and $9.8 million was spent by organizations producing the events. The arts and culture sector factors into where businesses and their employees plan to locate and expand, a primary component for Springfield's long-term economic health.
"There are very few factors that we found over the years that have as wide of an impact on where businesses growth happens in terms of talent and workforce," says Matt Morrow, Springfield Area Chamber of Commerce president. "A big, big part of how communities compete for jobs, economic growth, and capital investment is by demonstrating it's a community that's an attractive place for people to live and that they can enjoy the lifestyle they want."
Many organizations that have been around for decades have seen record-breaking attendance because of high-quality programming, furthering the economic impact in the region. After the successful run of "Wicked" in 2016, Juanita K. Hammons Hall for the Performing Arts sold more than 33,000 tickets to a 16-performance run of "The Lion King" in 2019, with an estimated gross of $2.8 million. That show meant an estimated $9.1 million impact on the local economy, through not only ticket sales, but also travel, lodging, dining, parking, and the spending by the 140-plus people traveling with the production.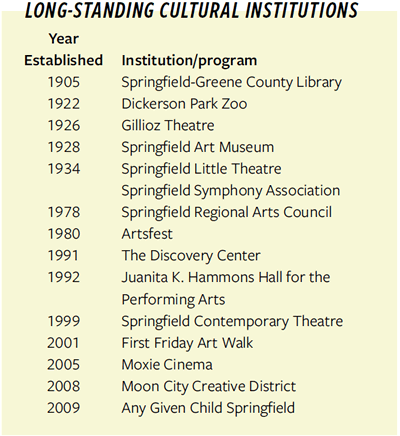 The Springfield Art Museum, one of the city's oldest cultural institutions, had more than 60,000 patrons walk through its doors in 2018, a 3% increase over its previous record-breaking year in 2017. This growth is due in part to traveling exhibits like "Nick Cave's Soundsuits," providing local patrons art experiences previously unavailable in the area. While admission is free at the museum, ticketed fundraising events have raised $43,000 in art conservation efforts.
Another cultural mainstay, Artsfest on Historic Walnut Street, had a benchmark year in 2018 with an estimated 20,000-plus attendance and a 25% increase in ticket sales from the previous year.
This two-day festival has grown to include including over 140 local and national exhibiting artists, live performances on multiple stages, an expanded food court, and features live art with 10 artists painting throughout the weekend.
New events are emerging as well, such as Rated SGF, a weekend film festival organized by Downtown Springfield Association and the Film and Media Association of Springfield. For its inaugural event in 2018, the festival brought in film director David Lowery to showcase his film "A Ghost Story," starring Casey Affleck and Rooney Mara.
Were events like these cultural mainstays not available in the area, the economic impact study found that the money spent in Springfield would have likely gone elsewhere. Most nonlocal tourists (83.9%) said they came to Springfield specifically for the event they were attending. Fifty-one percent would have traveled to another community if the event weren't offered in Springfield.
And they're buying more than a ticket. Nonresident attendees spend 28% more per person than local attendees ($28.26 vs. $22.10, not including price of admission) on meals, lodging, transportation, souvenirs, and other items. "It's well documented that cultural tourists spend more when they travel," says Tracy Kimberlin, president and CEO of the Springfield Convention and Visitors Bureau. "Not only are the cultural tourists adding to the crowds at the events, but they certainly add to the economy as well."
The Springfield-Greene County's Library District has been bringing in best-selling authors such as Emily St. John-Mandel and Madeline Miller for their community-wide book club, with standing-room only attendance.
"While this is good news, it's not surprising," says Mayor Ken McClure, adding that Springfield is fortunate to have such a strong arts community.
The strength of Springfield's and Greene County's arts and culture community comes from its solid foundation of sharing and collaboration. With limited internal resources and infrastructure available, arts and culture organizations rely on each other for support. The Creamery Arts Center, a city-owned building in Jordan Valley Park, has helped offset costs for community arts groups since 2002. It houses the offices for the Springfield Regional Arts Council, Springfield Ballet, Springfield Symphony Orchestra, Springfield Regional Opera, Men's Chorus of the Ozarks, Sculpture Walk Springfield, Any Given Child Springfield and the Film and Media Association of Springfield, as well as the Springfield Little Theatre Costume Shop and Set Design Studio. More than 30 other arts organizations use the building for meeting and rehearsal space at little or no cost.
Sharing resources allows for further collaboration of arts and culture groups. Springfield Little Theatre and Moxie Cinema have both seen a growth in new audience members from collaborating with alternative venues. SLT's production of "Cabaret," held at the downtown bar Nathan P. Murphy's, sold out every show because of its unique intimate setting. The Moxie was able to quadruple seating capacity for cult-classic films by screening them outdoors at Mother's Brewery.
The Discovery Center's Executive Director Rob Blevins says that one of the center's best events to date has been a collaborative effort based on need: It combined forces with The Diaper Bank of the Ozarks to create a new fundraiser that brought record-breaking numbers. "These forms of collaboration help further not only our mission, but theirs as well," Blevins says. He adds that the two groups are already planning additional events for Earth Day.
RED FLAGS
Arts and culture organizations still require help from the community for diversity at the leadership level, infrastructure support and sustainable funding. These Red Flags remain consistent with previous years' reports, and affect arts and cultural organizations on multiple levels.
An estimated 2% of all board members surveyed in 2019 reflect a minority population, while the minority community represents 10% of Springfield's population. Strides are being made to build greater cultural equity, with events such as the Community Concerts & Conversations held in 2018, allowing the arts to serve as a safe space for tough conversations about diversity and race. To fully represent and reflect the city's current demographics, however, arts and cultural organizations must ensure diversity at the leadership level and on their boards.
In addition to adding more diverse voices at the table, organizations are also struggling with infrastructure support. With growing audiences and more programs, issues such as parking, staffing and facility maintenance remain a constant hurdle for even well-established organizations. With the hub of the arts and culture groups located downtown, parking is at a premium, where few spaces are guaranteed for both staff and patrons.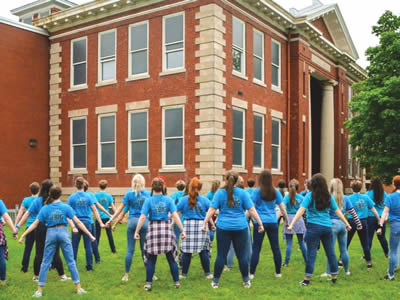 SLT, which has seen tremendous growth in a short amount of time, recently purchased a separate building to house its education and outreach needs. The building, along with the organization's Landers Theatre, are over 100 years old, and a capital campaign for $5 million is underway. The group received a $1 million grant from the C.W. Titus Foundation to partially forgive the purchase debt. Despite this grant, sustainable funding continues to be a Red Flag for all arts organizations. In 2019, multiple arts organizations including the Springfield Art Museum and the Springfield Symphony Orchestra are leading endowment and capital campaigns with more than $33 million needed collectively. While some local foundations continue to provide project support, the long-term operating and capital expenditures are often left behind.
HOW TO HELP TURN THESE RED FLAGS INTO BLUE RIBBONS
Become a season ticket holder and/or attend events.
Make unrestricted donations, allowing arts organizations to address infrastructure needs while also allowing for the creativity that exists.
Remember that the arts are a commodity. You wouldn't ask your plumber to fix your pipes for "exposure."
Arts and culture leaders want to get to know you. Say hello and attend community events.
Internally, have a firm grasp on who we are serving so that we mirror our community demographics appropriately.