Our community has seen the value of coming together to make an impact in community health. Throughout the past 15 years, collaborations and partnerships have grown among the health-care sector and community organizations. These relationships are key to addressing Red Flags and for continuing success with Blue Ribbons.
BLUE RIBBONS
A common theme is the focus on public health. Public health, once focused on preventing illness through activities such as immunizations and disease surveillance, is more robustly thought of today as partners working together to ensure the conditions in which everyone can be healthy. In 2016, an innovative collaboration between health-care partners and public health led to the first Community Health Needs Assessment, the most coordinated and comprehensive health assessment that the Springfield community had conducted.
The second CHNA, published in 2019, built upon the successes of the first, analyzing and identifying priority areas and common threads of our area's health concerns. Three priority areas were identified: lung disease, cardiovascular disease and mental health. Five common threads were also identified this time: access to appropriate care, mental health, physical activity and nutrition, social determinants of health and tobacco use.
The CHNA was used to develop the Community Health Improvement Plan to address the needs. The first CHIP was deployed in late 2016 with multiple community partners through the Health Living Alliance. The new CHIP will again be deployed to focus on policy and system changes to affect community health.
Springfield's health-care infrastructure and resources have consistently been identified as a Blue Ribbon since the first Community Focus Report in 2004, with two top 100 hospitals in Springfield. Our two major integrated health system providers, CoxHealth and Mercy, contribute to the area's overall economic stability by being the top two employers in the area, employing more than 20,000 in the health-care field. The area's number of physicians has remained relatively flat with just over 950 physicians, but our community has physician representation in all specialty areas. The continued growth of Jordan Valley Community Health Center means increasing services and resources are offered to meet the needs of the underserved.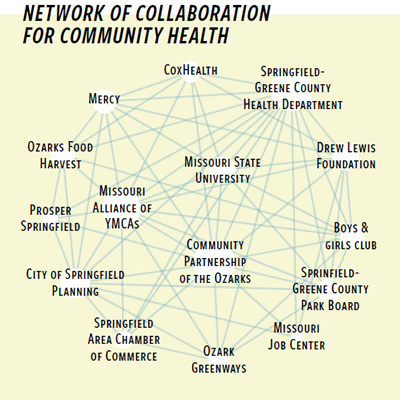 Our community knows that partnership is pivotal in the success of growing our reach and recruiting and training health-care professionals. In 2007, Missouri State University opened the Jordan Valley Innovation Center to bring biomedical research and development to our community. In 2013, Ozarks Technical Community College was awarded funding to train 500 unemployed workers for health-care careers. In 2014, MSU partnered with the University of Missouri-Kansas City School of Pharmacy to expand its program to Springfield. In 2015, we saw partnerships expand across business sectors, including health care, to launch the GO CAPS program. In this effort, high school students explore multiple career paths and learn additional skills for their next career steps. This growing program has continued to attract possible new health-care professionals. In 2017, OTC enrolled its first class into the Behavioral Health Support Program to prepare students to work in behavioral health and substance abuse facilities.
In looking toward the future, educational opportunities should continue to grow. In mid-2019, through a partnership with University of Missouri-School of Medicine, CoxHealth and Mercy, 32 new physicians are expected to be in training at the Springfield clinical campus. Through MU's expanded program, at least 128 students should be in the pipeline to deliver care in our community in the coming future.
RED FLAGS
Access to medical care has been an ongoing Red Flag, one affected by the higher rates of uninsured individuals. In Springfield, 15.22% of adults are uninsured, compared with 13.21% nationally.
The area is designated as a health professional shortage area with the rate of medical primary-care providers at 86.9 providers per 100,000 in Springfield and 108.4 in Greene County, both higher than the state rate of 83.6. The region also has shortages in dental and mental-health providers.
A lack of access to dental services in Springfield continues to be a Red Flag, driven by the level of uninsured individuals as well as a shortage of dental providers who accept state Medicaid plans. Jordan Valley Community Health Center has worked to change the lack-of-access issue through several initiatives. It provides comprehensive dental services to school-aged children through two mobile units and access to a dental surgery center. The Jordan Valley Dental Express Care provides same-day access for acute dental needs.
From 2015 to 2018, Jordan Valley partnered with CoxHealth and Mercy on a project aimed at reducing emergency visits related to dental pain by routing these patients back to Jordan Valley for care. During this time frame, emergency rooms saw a 50% reduction in patients seeking dental care.
A continued need for access to dental services in the Springfield community is evidenced by the number of patients (averaging 20-plus per day) still seeking acute dental care resulting in extractions. This need is also evidenced by the number of children needing full-mouth rehabilitation due to cavities. In Springfield, 20.2% of the population has poor dental health, compared with the national rate of 15.7%.
In 2007, mental health and substance abuse were first identified as a community Red Flag. Since 2013, the two have appeared as a common thread in the Community Focus Report, and in 2016, community partners came together to investigate mental health and substance abuse needs in our community. This assessment culminated in the release of the Community Mental Health and Substance Abuse Assessment Report in spring 2019.
Three domains were identified through the assessment: Awareness and early intervention, crisis services, and access to appropriate care. Throughout the assessment, it was recognized that stigma affected all domains and sectors in the community, such as education, health, criminal justice, workforce and many others.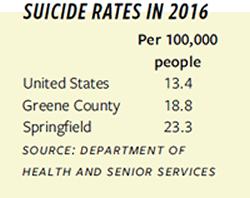 Springfield and Greene County have seen an increase in suicide rates and depression in the past decade. Nationally, the rates for suicide in 2016 were 13.4/100,000, compared with 18.8/100,000 for Greene County and 23.3/100,000 for Springfield. Across the country, opioid dependence and illicit drug use have become a national concern. The age-adjusted rate of mortality due to drug poisoning in Springfield is 21.5/100,000—greater than the state and national levels (18.67 and 15.60, respectively). The increased rates of mental illness and drug-related deaths could be linked to an individual's access to appropriate levels of care.
Access to mental-health providers is greater at the city and county level than it is at the state level, but a higher saturation of providers does not necessarily equate to improved health due to the area's higher uninsured rates. Additionally, social stigma related to mental-health treatment could be a barrier for patients seeking care.