A strong economy is at the heart of any thriving community, and Springfield has been in the midst of a period of economic strength for several years. Record-low unemployment, stability and growth in a wide range of business sectors, and a spirit of enthusiasm about the community's future set the stage for continued economic strength in the region.
BLUE RIBBONS
Springfield's economy has remained strong since the last Community Focus Report. In fact, since the first report in 2004, the region's economy has reported strength and consistent growth due to its diverse industry base and strong foundational employers in health care and education. Manufacturing, logistics, information technology and retail businesses also employ large numbers and continue to flourish.
Local unemployment rates are near record-low levels, with the Springfield Metropolitan Statistical Area reporting unemployment of around 3% and at times dropping as low as 2%, according to the Bureau of Labor Statistics. The total number of workers in the labor force has increased by 5.8% in the last decade, while the number of jobs has increased by nearly 9%. While opportunities for workers are plentiful, some businesses are experiencing difficulties filling needed positions.
The affordability of housing also contributes to the strong economy. Housing prices have grown steadily over the last decade, up 39 percent since 2011, according to the Greater Springfield Board of Realtors, and while prices were impacted by the recession that began in 2007, they avoided many of the drastic spikes and dips that lead to economic instability in other regions. However, average home prices in Greene County are $171,566, well below the national average, keeping the idea of home ownership within reach for more people.
One of the spurs for growth has been the revitalization of downtown and other redevelopment districts. Major projects have served as catalysts for vibrant growth, including the Heer's luxury loft project, the creation and growth of Hotel Vandivort, the redevelopment of the Woodruff and McDaniel buildings, and Missouri State University's development of the Brick City complex.
Commercial Street has undergone a rebirth in recent years, with business owners and developers creating an area conducive to community-oriented retail and entrepreneurial spaces. Momentum continues to build for other areas, including Galloway Village in southeast Springfield.
Entrepreneurs have shown up to help create an environment that is welcoming to startup businesses, innovators and young professionals. Since 2013, MSU's efactory has helped encourage new business ideas and served as a business incubator, while the Kauffman Foundation's 1MillionCups program continues to encourage new business ideas. The Network for Young Professionals, a committee of the Springfield Area Chamber of Commerce, works to encourage the area's young professionals to get involved in the community and take their place at the decision-making table.
One way the community is working to keep those professionals in the area is by reaching them early, through a strong education system at all levels. The Greater Ozarks Center for Advanced Professional Studies continues to grow, with more than 300 students from 23 school districts in the 2018–19 school year spending half of their school day to learn in fields where there is the most need for skilled workers.
The area's universities form part of the backbone of the community, with more than 50,000 college students in the region preparing for life after school—and businesses are eager to tap into this large, in-demand labor pool after graduation.
The community has recently demonstrated its continued support for education as well. Passage of the $168 million bond issue for Springfield Public Schools in April 2019 will provide funding for much-needed upgrades at facilities throughout the district. Ozarks Technical Community College, meanwhile, successfully passed a 20-year renewal and increase of its property tax to create the Center for Advanced Manufacturing and Technology, with training focused on skills needed for sought-after high-quality jobs in our region. It also will help the college expand technical and allied health programs at its Richwood Valley and Table Rock campuses, as well as provide additional training for displaced workers.
RED FLAGS
While the regional economy is strong, there are potential barriers for continued growth. One significant issue is the shortage of skilled workers.
The low unemployment rate contributes to this issue. With jobless numbers at historic lows, finding enough employees—particularly those with significant, specialized skill sets—to fill newly created jobs becomes more difficult.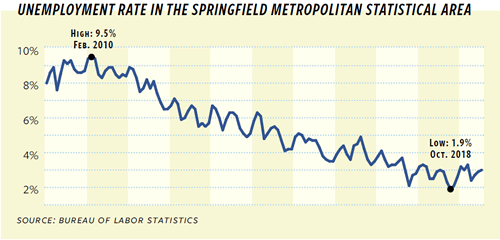 The Springfield region is not alone in this regard. Businesses in metropolitan areas across the nation report similar difficulties in finding the right people to fill the jobs they want to create; nationally, there were more job openings than people to fill them in 2018 for the first time in modern U.S. history, according to the U.S. Department of Labor. Because wages correlate with skills, this skills gap not only inhibits growth for employers and higher-paying jobs, it also hinders earnings potential and upward mobility for those who live here, especially those who are underemployed.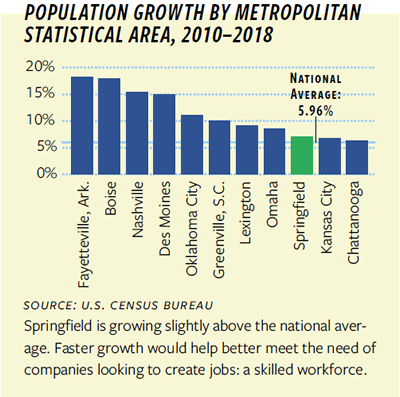 The skills gap is compounded by the slowing of population growth in the area. Springfield's population is now growing at about 1% a year, only slightly above the national average. To be able to compete with other communities facing the same workforce issues, we will need to be able to grow our population more quickly. The fastest-growing metro areas in the country are growing at rates closer to 3% a year by recruiting talent to their cities.
Population growth, if addressed properly, could also help address another key issue cited by both citizens and businesses: the area's continued lack of racial and ethnic diversity. Just over 90% of the Springfield population identified as "white" as of 2017 according to the U.S. Census Bureau. Several community and civic organizations efforts are working to address the issue, including Minorities in Business and MSU Multicultural Services, and strides have been made in recent years.
Overall, the lack of available skilled workers makes it more difficult to encourage new businesses to locate in our area and existing businesses to expand here. Another barrier to this process is the lack of development-ready sites and available commercial real estate. Vacancy rates for industrial real estate in Greene and Christian counties are hovering at around 3%, and speculative buildings are claimed before they are even available to market to prospects.
All of these factors make it difficult for businesses to add the high-skills jobs that help increase wages and address the poverty issues that are still a problem in our area. While average wages have increased in Greene County for the last several years, wages are still below state and national averages.