COMMUNITY TIMELINE 2004-2019
Over the past 15 years, our strengths and challenges have evolved as the world changed. This timeline recaps key moments around each report's release.
Housing element of Vision 20/20 launched with a five-year strategic plan for providing affordable housing.
Mayor's Commission for Children was formed.
Early Learning Opportunities Act grant awarded to Burrell Behavioral Health.
Hammons Field opened in center city; Springfield Cardinals arrived a year later.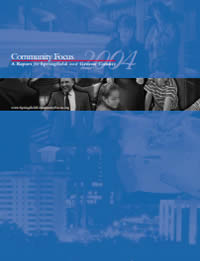 First report is published covering nine areas. Key trends identified:
Encouraging center city redevelopment.
Too many children in poverty.
Funding for public schools below state average.
Needs of many at-risk children not being met.
World & State Events
Feb 4: Facebook is created.
Nov. 2: George W. Bush re-elected president; Matt Blunt elected governor; Missouri voters approve Amendment 3 to support transportation.
Water Quality Planning Group recommendations adopted by Springfield and Greene County.
Grantmaker's Challenge for Children begins directing philanthropic support towards Red Flag issues of children in poverty.
November ballot Community Safety Initiative failed, which included funding for early childhood.
Dr. Norm Ridder named Springfield Public Schools superintendent.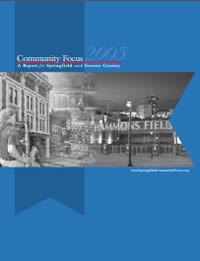 A follow-up report is published, adding sections for early childhood and community health. Key trends identified:
The community responds to the first report with collaborative efforts.
Local economic boom helps drive state economy.
Too many children still suffering effects of poverty.
Methamphetamine traffic touches all facets of life.
Funding for public education shifts to local responsibility.
World & State Events
Aug. 29: Hurricane Katrina hits Gulf Coast.
Two-year drought begins.
Greene County voters approve sales tax to support parks and stormwater improvements.
Kindergarten Readiness Study finds 24% of kindergarteners not ready to learn.
Dr. Norman Myers retires as the founding president of Ozarks Technical Community College, passing the reins to Dr. Hal Higdon.
Tom Finnie retires after 16 years as Springfield's city manager.
Gillioz Theatre restored and reopened.
World & State Events
Dec. 11: Mexico's president initiates war on drug cartels.
Dec. 30: Former Iraq President Saddam Hussein executed for crimes against humanity.
Tens of thousands of trees lost during historic ice storm.
Victor Vieth visited Springfield with call to "End Child Abuse in 120 Years."
Missouri State University opened its new Jordan Valley Innovation Center, a collaborative effort to bring biomedical research and development to the community.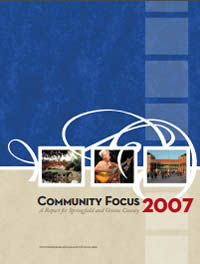 The report begins publishing biannually. Key trends identified:
Children in poverty remains a focus, as the Grantmakers' Challenge for Children begins raising millions for preventive solutions.
Health-care access sees some success with the Jordan Valley Community Health Center.
Collaboration among public and private entities remains strong.
The number of child abuse and neglect cases in Greene County is well above the state average.
Financial backing for essential services does not match need.
World & State Events
June 29: The iPhone is released in the United States.
December: Great Recession begins.
Isabel's House Crisis Nursery is opened.
The Red Wagon Kids Community Plan is created.
Springfield Regional Crime Lab opens in downtown Springfield.
Greg Burris selected as Springfield city manager.
World & State Events
Sept. 29: The Dow Jones Industrial Average plunges 777 points, one of the largest drops in history.
Oct. 3: Troubled Asset Relief Program financial rescue plan enacted.
Nov. 4: Barack Obama elected president; Jay Nixon elected governor.
New Springfield-Branson National Airport terminal opens.
Springfield receives federal Ready to Learn grant funding.
Jordan Valley Community Health Center expands to downtown Springfield.
The Health Commission formed as a community-based collaborative.
Voters approve tax to shore up Police-Fire Pension Fund.
First "diverging diamond" interchange in North America opens in north Springfield.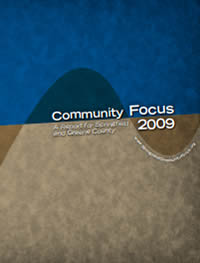 The 2009 edition looked at emerging issues rather than Blue Ribbons and Red Flags.
The number of residents without health insurance continues to rise.
Child abuse and neglect rates in Greene County remain high.
The Great Recession affects housing and hunger locally.
Education budgets still a concern.
World & State Events
Feb. 17: American Reinvestment and Recovery Act enacted in response to Great Recession.
June: Great Recession ends.
One Door established with Community Partnership of the Ozarks, providing a central point of entry for coordinated intake, assessment and referrals for housing and shelter services throughout our community.
Field Guide 2030, a comprehensive process to update the community strategic plan, begins and continues through 2012.
Kindergarten Readiness Study finds 20% of kindergarteners not ready.
Springfield-Greene County Botanical Center opens.
World & State Events
Jan. 21: U.S. Supreme Court decides Citizens United case on campaign finance.
March 23: Affordable Care Act signed into law.
April 20: Deepwater Horizon oil platform explodes.
The start of the Southwest Missouri HOME (Housing Options Must Expand) Team to expand awareness and availability of affordable and accessible universally designed housing.
Watershed Center at Valley Water Mill Park completed.
Springfield News-Leader begins the "Every Child" public service journalism project to highlight concerns of young children and families.
Clif Smart becomes MSU president.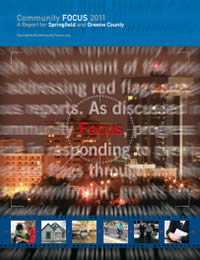 Key trends identified:
Innovation emerges as a theme, with the IDEA Commons as a highlight.
Social capital is integrated into community planning.
Economic uncertainty from national level has trickled down locally more than in the past.
Child abuse and neglect cases increase.
Early Childhood section cites inability to convert public support to action as a Red Flag.
World & State Events
May 22: EF5 tornado strikes Joplin, killing 158 and injuring 1,150.
Sept. 17 Occupy Wall Street begins movement
Dec. 15 U.S. declares end to war in Iraq
Springfield voters re-affirm 2011 Smokefree Air Act for workplaces and public areas.
Springfield retains the U.S. Postal Service processing facility, instead of consolidating it in Kansas City.
Severe drought weathered due to planning and implementation of resource allocations from Stockton Lake.
World & State Events
Feb. 29: Leap Day tornado hits Branson.
May 7: Vladimir Putin elected president of Russia.
Nov. 6: Barack Obama re-elected president; Jay Nixon re-elected governor.
Dec. 14: Sandy Hook school shooting kills 28.
Springfield Community Land Trust established to offer access to land and housing at affordable rates.
The Springfield Affordable Housing Center opens a one-stop housing and homelessness prevention service center.
The efactory, a business incubator managed by Missouri State University and Springfield Innovation Inc., opens as part of IDEA Commons.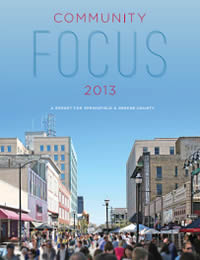 Key trends identified:
Higher-education resources committed to improving public issues.
Concerns arise that poverty may affect economic development.
Community needs preventive efforts.
Child abuse and neglect as well as youth in poverty remain issues.
Funding losses for infrastructure and community needs since the Great Recession have not recovered.
World & State Events
June 26: U.S. Supreme Court recognizes same-sex marriage.
City Council adds sexual orientation and gender identity to nondiscrimination ordinance.
Kindergarten Readiness Study finds 27.4% of kindergarteners not ready; Kindergarten Prep begins in Springfield elementary schools; establishment of Every Child Promise.
Dr. John Jungmann selected as SPS superintendent.
University of Missouri-Kansas City School of Pharmacy partnered with MSU to bring a pharmacy program to Springfield.
Dr. Robert Spence retires after 40 years at Evangel University; succeeded by Dr. Carol Taylor in 2013.
Jim Anderson retires from Springfield Chamber after 26 years; Matt Morrow named new president/CEO.
World & State Events
Aug. 9: Michael Brown shooting occurs in Ferguson, Mo.
Nov. 2: Intergovernmental Panel on Climate Change warns of "severe, pervasive and irreversible damage."
Dec. 17: U.S. normalizes relations with Cuba.
Springfield voters repeal addition to nondiscrimination ordinance.
City's Integrated Planning Approach accepted by EPA.
SPS Parents As Teachers expands to every elementary school in district.
Unique collaboration with SPS and Boys & Girls Club locates a center at Sherwood Elementary School.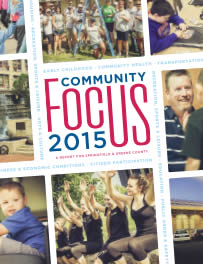 Key trends identified:
Awareness grows of shifting civic responsibilities in an increasingly urban environment.
Private and public development resurges as local economy rebounds.
Community leaders recognize the difficulty of impacting chronic poverty issues sustainably.
Funding is lacking not only for preventive public efforts, but also maintenance in other areas, including transportation, natural environment and public order and safety.
World & State Events
Nov. 9: MU President Tim Wolfe resigns over racial unrest.
Kindergarten Readiness Study finds 24.7% of kindergarteners not ready; Early Childhood One Stop established.
Springfield Public Schools celebrates 150 years, expands Explore summer learning program to serve over 12,000 students.
Sculpture Walk Springfield launches, increasing public art downtown.
A Community Health Improvement Plan was developed and adopted by community partners through the Healthy Living Alliance.
First collaborative Community Health Needs Assessment published by CoxHealth, Mercy & Springfield- Greene County Health Department.
Dr. Tim Cloyd named president of Drury University.
World & State Events
July 6: Pokemon Go is released.
September: State legislation changes makeup of Missouri Clean Water Commission.
Nov. 8: Donald Trump elected president; Eric Greitens elected governor.
Dec. 31: U.S. withdraws troops from Afghanistan.
Missouri School Funding Formula is fully funded and allows for preschool slots.
Early Learning Leadership Academy is formed for early childhood directors.
SPS establishes Launch online learning, which provides access students in Springfield and across Missouri.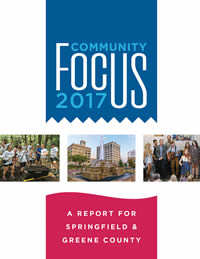 A guide for valid sources of community information to confront online misinformation is included. Key trends identified:
For the first time, the community began a comprehensive assessment of the state of mental health in the region.
Poverty and sustainable funding for community persist as challenges.
Concerns arise over civic engagement, especially with the drop in voter participation.
Recreational, arts and entrepreneurial assets, including re-opened Wonders of Wildlife, contribute to quality of life.
Unemployment remains low, but wages have not kept up with the rising cost of living.
World & State Events
April 28-30: Historic flooding hits south-central Missouri.
Aug.-Sept: Hurricanes Harvey, Irma and Maria strike U.S.
Oct. 1: Las Vegas mass shooting deadliest in U.S. history.
Dec. 22: Tax Cuts and Jobs Act overhauls IRS code; repeals ACA individual mandate.
Kindergarten Readiness Study finds 26% of kindergarteners not ready; Campbell Early Childhood Center begins serving 200 preschoolers; early childhood education services expand to over 700 4-year-olds.
The first residents move into Eden Village, a tiny-home development for chronically disabled homeless people.
Jason Gage takes over as Springfield city manager after the retirement of Greg Burris.
World & State Events
March 24: "March for Our Lives" occurs in 900 cities after Parkland school shootings.
June 1: Eric Greitens resigns as governor; Mike Parson sworn in.
July 19: Duck boat sinks in Table Rock Lake, killing 17.
Nov. 6: Missouri voters approve campaign finance reforms, medical marijuana and minimum wage hike.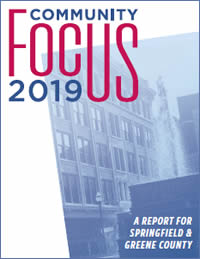 Springfield voters approve Proposition S, a $168 million bond proposal to fund for Springfield Public Schools, including construction of a new Early Childhood Center; voters also approve extending 1/4-cent capital improvements sales tax for 20 years.
Comprehensive community mental health & substance assessment released.
History Museum on the Square opens in downtown Springfield after five years of planning and investment of more than $12 million.
World & State Events
Jan. 25: Federal government ends 35-day shutdown.
July: Month recorded as hottest in history, globally.
August: Mass shootings in Dayton, Ohio, and El Paso, Texas, hit home with scare at Springfield Walmart.