COMMUNITY INPUT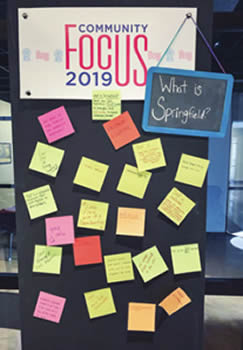 From April through June 2019, the Community Focus Report's steering committee posted comment boards in nine locations throughout the Springfield area asking the public, "What is Springfield?" More than 200 answers were collected and coded for summary. The vast majority of comments highlighted strengths and were included in this word cloud.
The few challenges mentioned—including unequal access to resources, diversity issues and drugs—were brought to the committee to inform the discussion of community themes.
Continue the discussion at Facebook @SGFCFR.