In the area of public safety, prevention efforts and disaster preparedness have improved in Springfield and Greene County. But funding challenges remain, and the increasing flow of drugs into the areas is leading to drug-related issues, including overdoses and crime.
BLUE RIBBONS
The past few years have seen many changes and growth in the public safety professions, including the collaboration among the city, county and community to consolidate resources and create the Springfield-Greene County 911 Emergency Communications Department in 2002, which also included the merging of the Republic 911 dispatch in 2013. A new collaboration of partner agencies, which includes the Springfield Fire Department, the City of Springfield, Mercy, CoxHealth, Springfield-Greene County Health Department, City Utilities, Missouri State University, Ozarks Technical Community College, Evangel University and Drury University, launched the PulsePoint Respond CPR notification app, which notifies trained citizen responders that someone within a half mile of their location is experiencing cardiac distress. Nearly 2,000 users have downloaded the PulsePoint app since its September 2018 launch.
In 2007, an ice storm paralyzed the area for several days, revealing a need for increased disaster preparedness. This need was addressed through the construction of the Greene County Public Safety Center and the implementation of the Emergency Management Accreditation Program. The center allows for direct collaboration of more than 70 local, state and federal agencies during emergency response and recovery operations. Since its opening, the PSC has hosted more than 65,000 people for collaboration meetings, emergency management coordination, and training events.
Cited as a Red Flag in the 2011 Community Focus Report, community and individual disaster preparedness has now significantly improved through the adoption of the Emergency Management Accreditation Program, which uses nationally recognized standards and a peer review process. In 2012, the Office of Emergency Management was the 13th local jurisdiction in the nation to receive accreditation. In 2017, the OEM was reaccredited through 2021.
Collaborative efforts have allowed the Community Partnership of the Ozarks to implement the Mental Health First Aid program, which teaches adults a five-step action plan to identify and work with someone experiencing a mental-health challenge or crisis. In Greene County, CPO and its collaborative partners trained more than 1,700 Greene County adults in Youth Mental Health First Aid to support teens who may be experiencing similar challenges. During a three-year period, those adults referred more than 18,000 youths to professional, self-help or other support strategies.
Voter-approved funding has provided more resources for public safety and order. In 2007, Greene County voters passed the 1/8-cent sales tax for 911 services, which helped to equip the Public Safety Center with state-of-the-art technology and begin the process to achieve the 911 accreditation component by the Commission on Accreditation for Law Enforcement Agencies.
In 2017, Greene County citizens voted to approve a 1/2-cent general revenue sales tax, allowing $500,000 to fund partnerships among the prosecutor's office, sheriff's office and Springfield Police Department. For the full tax, 56% was allotted toward criminal justice, 6% for environmental mandates, 25% for capital projects, and 11% for community initiatives, including $2 million to address issues surrounding mental health. This tax funded several projects, including an expansion of the Greene County Jail and the creation of the Greene County Family Justice Center, a "one-stop shop" for victims of domestic violence where they can access services of 22 partners.
In 2018 and 2019, the Springfield Police Department began implementing changes made possible by the renewal of the Level Property Tax by the City Council and voters. The funding provided life-cycle replacement of vehicles and additional sworn and civilian personnel.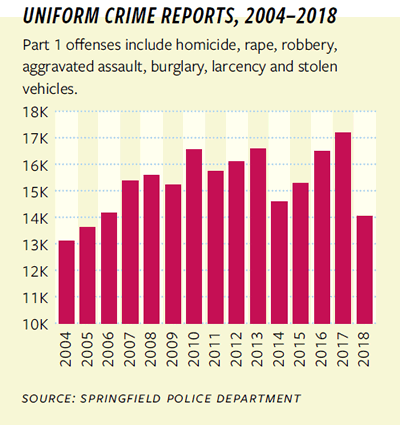 The police department will be able to add 19 investigators and three support staff over the next three years. The officers will be used to fully staff a Family Violence Unit, add property crimes detectives and create a new Vice Unit to investigate human trafficking/sex trafficking, prostitution, gambling and alcohol-related crimes. In 2019, 10 new recruits were included in the annual training academy class to begin the process of adding those new investigators.
In 2018, the police department began the annual process of using LPT funding to purchase 30 replacement police vehicles. The building of new city facilities, and the maintenance of older ones, is also a top priority for LPT funds. One SPD project Included was the renovation of the old Springfield Mill and Lumber building. The $500,000 renovation is due to be completed in November 2019 and will provide for all property crimes detectives to be housed in one building, instead of several facilities around the city.
The fire department will have funding for two new fire stations in the central and western areas of the city. The fire department's community outreach efforts through Project RED (Reduce, Educate and Deliver) Zone, a community risk-reduction program aiming to reduce home fires, fire-related injuries and deaths, has placed firefighters throughout the city providing fire safety information and free smoke alarms to those in need. Since the program began in April 2017, the department has installed 2,449 smoke alarms and 692 batteries, tested 4,511 smoke alarms, and visited more than 15,300 homes.
RED FLAGS
The effects of natural and human-caused disasters have become more frequent and widespread. As a result, preserving the public's safety and security has become more challenging. Federal funds that assist state and local governments in preparing for all-hazards disaster situations have remained at the same level for many years, even though the costs involved with preparing disaster-resilient communities continue to rise.
The Springfield-Greene County 911 Emergency Communications Department serves 13 fire agencies and nine law enforcement agencies, and transfers medical calls to local hospital-based emergency medical service providers. In 2016, a staffing study from an outside consultant identified the need for 16 additional telecommunicators, based on the workload at that time of Springfield-Greene County 911. This need continues to be an issue as the workload increases annually and the current sole funding is the 1/8-cent sales tax passed by the voters in 2007. With an estimated sales-tax revenue increase in 2019, six additional full-time employees were approved by the Greene County Commission and the City Council, which will help in reaching the staffing study recommendation.
The Springfield Police Department continues to wrestle with drug-related problems in the community. The department has seized increasing amounts of illegal drugs and responded to an increase in overdose calls related to opioids/heroin. In 2011, officers seized 4.3 pounds of methamphetamine and 0.057 pounds (26.3 grams) of heroin. Those totals surged to 32 pounds of methamphetamine and 2.06 pounds of heroin in 2018. This increase has come at a time when the department has seen a significant decrease in methamphetamine lab busts, from a high of 120 labs in 2012, to an average of three a year today. The methamphetamine seized comes from south of the border and has ties to Mexican drug cartels. It is cheaper, but higher in overall purity.
In 2018, officers responded to 187 overdose calls with 19 of those being fatalities, compared with 2017 when officers responded to 179 overdose calls, 10 of which were fatalities.
Missouri Student Survey data for Greene County 12th graders indicates that their perception of harm of marijuana use has decreased from 51.96% in 2014 of the 12th graders reporting marijuana use was somewhat or very harmful to just 37.39% among 12th graders reporting the same in 2018. In 2014, 15.66% of the Greene County 12th graders reported using marijuana in the past 30 days, while 20.72% of them reported past 30 day marijuana use in 2018.
Also, according to the Missouri Student Survey for Greene County 6th-12th grade students, the percentage of them who seriously considered suicide in the past year increased from 11.83% in 2010 to 13.28% in 2014 and 18.16% in 2018. For those same youth, the % who reported planning suicide in the past year increased during the same time frames from 8.71% to 10.04% to 12.5%, and those reporting attempting suicide during the past year increased during the same time frames from 5.24% to 6.19% to 6.72%.
From 2015 to 2018, the number of unsecured vacant structures have steadily increased, as have the number of fires in vacant structures. In many cases, residents in the area where fires are occurring report transient activity immediately prior to the fire. Unsecured vacant structures provide access as a means of temporary shelter, an opportunity for destruction of property, criminal behavior and the increased likelihood of a fire.