CITIZEN PARTICIPATION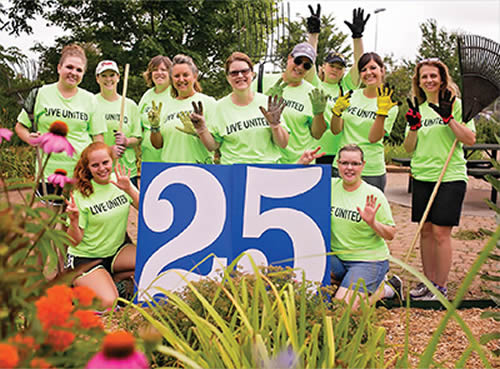 Engagement up, but voter turnout weakening
An increase in civic participation, interest in volunteerism bodes well even as registered voters, turnout for non-national elections and diversity of representatives wane.
BLUE RIBBONS
Citizen action and volunteerism indicate vibrancy
Improvements in contested race ratio
RED FLAGS
Registered voter gap widens with population growth
Underrepresentation in elected roles
Local election voter turnout
Poverty impacts charitable capacity and civic education
The tracking of citizen participation can be a deep dive into the data that is driven by the behaviors of a community. In this iteration, we focus on key points of civic health: voter registration and turnout, competitive races in the political sphere, and charitable involvement. While some aspects of Springfield's citizen participation are signs of hope, other components suggest declining involvement. What we know for sure: citizen participation is vital to Springfield's future. It must be nurtured, and it must be a true representation of our community as a whole.
BLUE
RIBBONS

Citizen participation in Greene County can be measured in charitable involvement and at the ballot box. Each indicates a different component of the civic health of a group of citizens. While citizen action and volunteerism indicate vibrancy among Springfield-Greene County residents, others suggest a waning sense of connectedness due to the stressors of poverty and other factors.
According to "Volunteerism: A Study of the Springfield, MO Area" (2016), there are nearly 55,000 formal documented nonprofit volunteers in the Springfield area performing more than 155,000 hours of service every month. The annual economic value of these hours is over $43.5 million and saves Springfield's 235 nonprofit organizations represented in the report an average of more than $185,000 per organization annually.
Additionally, community-wide volunteerism events like the United Way of the Ozarks' Day of Caring continue to make strides in involving more citizens. On the 25th annual Day of Caring on June 22, 2017, more than 2,300 volunteers spent 13,800 hours assisting nonprofits. While the Community Partnership of the Ozarks indicated fewer individuals volunteering in 2016 compared with two years ago, the hours spent volunteering (41,596 in 2014 compared with 59,344) indicate a greater commitment from each volunteer. Efforts to reduce poverty through the Northwest Project, a collaborative effort funded by the Community Foundation of the Ozarks and other funding partners, and implemented by the Drew Lewis Foundation, Missouri State University, and Drury University, have provided relevant data that suggest individuals, when given a clear opportunity to get involved, are interested in supporting philanthropic work in Springfield and will make long-term commitments to issues that inspire action.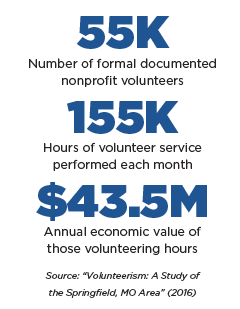 Multiple national events also had a local presence in 2016 and 2017. In 2016, 62 events were permitted to be held on the square, nearly double the total in 2015. And in just the first six months of 2017, over 42 permits were approved. Citizens participated in a groundswell of public protests and involvement at events in downtown Springfield as well as at local legislator offices. Increased participation in the civic process can also be more specifically measured and acknowledged by the large volume in phone calls and emails made by constituents to the Missouri Senate and House of Representatives.
The slate of contested races for state representative seats in Greene County significantly improved since the 2014 (state) and 2015 (local) elections. In November 2016, seven of eight races were contested in the November general election, and in April 2017, all Springfield City Council races had more than one candidate. While nearly all Greene County office races (assessor, treasurer, public administrator, and one of two county commissioner seats) were uncontested, the trend for city and state elections indicate a greater awareness about the process, purpose and interest in running for office. Continued improvement in these numbers of contested races is needed, with closer races (less than 10 percentage points between candidates) as a key determinant of an improved civic involvement indicator.
RED
FLAGS

Greene County's registered voter numbers are decreasing as its overall population increases. Between the 2012 and 2016 presidential elections, the population of Greene County has increased by 2.8 percent (from 280,686 residents to 288,690), while the number of registered voters decreased by 4.0 percent (from 197,752 to 189,827).
These numbers are indicative of a national downward trend of registered eligible voters. Although the November 2016 Greene County turnout of 69.27 percent of registered voters was nine percentage points higher than the national average (60.2 percent), turnout is decreasing. As the percentage of individuals who are eligible to vote but do not register to vote increases nationally (146.3 million individuals are registered to vote, out of a pool of 218.9 million who could be voting), local trends are put in perspective.
Several groups are underrepresented in elected official roles in Greene County. None of Greene County's state senators are female (0/2). Only 25 percent of the county's state representatives are female (2/8), and 16 percent of elected Greene County officials are women (2/12). There are zero (0/10) non-white state representatives or senators representing Greene County. Representation by all sectors of the population is a strong indicator of healthy community engagement.
The 2016 presidential election — like other presidential contests — drew far more voters than local or state contests; it was the highest turnout recorded in Greene County in four years. But that has not translated into gains for local ballot/candidate decisions that often have a greater effect on the day-to-day lives of Springfield-Greene County. The April 2017 election, which included a major school-bond issue as well as city-government elections, produced an 18.62 percent voter turnout, or 34,526 individuals.
Additionally, voter turnout is disproportionately older and of higher income, as neighborhoods with higher-income families produced the highest voter turnout. For example, the University Heights area (precinct 3-A) had the highest turnout in Greene County in April 2017; average home prices in this neighborhood are more than double the citywide average ($267,542 to $114,400). Additionally, research completed by the Springfield Area Chamber of Commerce recently found that the average age of a likely April voter is 68, while the average citizen in Greene County is 35.4.
The poverty rate continues to stretch the nonprofit community in Springfield and Greene County. This impact is felt doubly, given more individuals are in need of assistance while the overall population has less to provide in charitable giving. Springfield's charitable giving rate is higher than the national average. However, Springfield's median household income is significantly lower than the national average ($33,557 compared with the national median income of $53,889), which reduces the overall number of dollars spent charitably as a community.
Solutions are challenging because real change in civic participation is deep in individual contact. Significant effort must be made to turn around concerning statistics involving eligible but unregistered voters and the inclination for those in poverty to feel disconnected from community-wide decision making. We must connect with our fellow citizenry, engage everyone, and provide opportunities to serve and commit. This is the core of true growth in citizen participation.
Community Voices
Students at Missouri State University gathered input from the Springfield citizens via Padlet. Respondents affirmed their commitment to volunteering and noted the need to emphasize the importance of voting.
"I volunteer in my new community of Springfield because I wanted to feel more at home when I moved here to attend MSU. Springfield has many opportunities to get involved and volunteer."
"Bringing awareness to the importance of this (voting) right and the implications that elections have on the local community is a great place to start."
"We are in the midst of a groundswell of public activism, inspired by national, state, and local legislation. This is an incredibly important part of our democracy; we must now turn public outcry into consistent involvement and enthusiasm for local and national issues into regular visits to the polls."

— CRYSTAL QUADE
STATE REPRESENTATIVE
132ND DISTRICT
For current information on citizen participation, view the following: