EARLY CHILDHOOD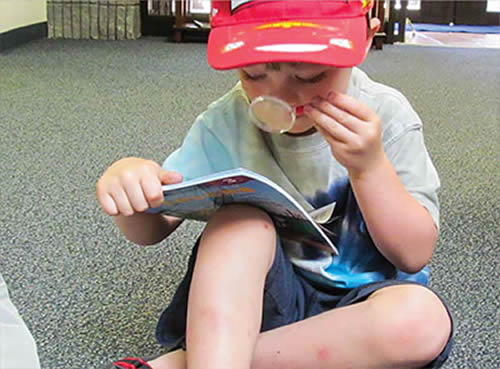 Partnerships enhance preschool efforts
Public/private initiatives are boosting the school readiness of young children. But funding challenges threaten programs, and social problems linger over some preschoolers.
BLUE RIBBONS
Parents As Teachers expansion
Collaboration
Early Childhood One-Stop
Early Learning Leadership Academy (ELLA)
Passport to Readiness app for families
RED FLAGS
Childhood trauma
Cost of child care
Instability of funding
Our community is committed to addressing school readiness and workforce development by improving outcomes for our youngest citizens. The goal is to reduce the number of children not ready for school to 10 percent by the year 2023.
After two years of concentrated efforts, pilot projects, and local, private funding, we are seeing positive results. The K-readiness continuation study conducted by the Mayor's Commission for Children shows readiness is trending up, and fewer children are coming to Springfield Public Schools unprepared for kindergarten.
The results went from 27.4 percent of children unprepared in 2014 to 24.7 percent unprepared in 2016.
BLUE
RIBBONS

With the addition of 14 parent educators, the Springfield Public Schools (SPS) Parents As Teachers program has expanded to every elementary school. This expansion was due to intentional focus and support from the local school board. In 2015-16, SPS Parents As Teachers provided more than 700 community events for families, including story times, toddler/preschool yoga, and kindergarten preps in Springfield. The local program was chosen to participate in a five-year national grant initiative to build connections between local health providers and the Parents As Teachers program.
The Springfield-Greene County Library District's early literacy program, Racing to Read, was adopted by the Missouri State Library as the state model and served as the foundation for its grant program developed through the federal Library Services and Technology Act. Racing to Read supports families by providing them with information, resources and play-based experiences that will help their children develop the skills critical for learning to read.
A 2015 survey indicated the program is an effective tool that helps parents prepare their children to learn and succeed. Ninety-four percent said they learned something at story times they can share with their children, and 90 percent of parents surveyed said they were more confident helping their children learn because of attending story times. The library conducts approximately 950 story times in its 10 branches each year, reaching more than 23,000 people.
Collaboration has been recognized as a strength in each of the past several Community Focus Reports within the Early Childhood section and remains central to continued improvements.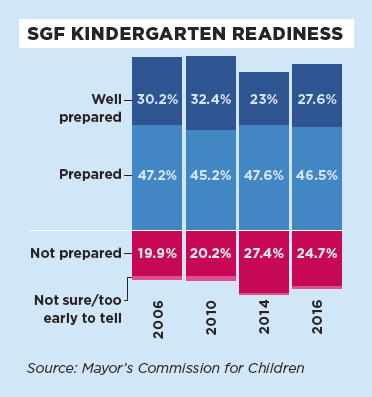 A prime example is Early Childhood One-Stop. What began as an idea created by Child Care Aware of Southern Missouri, Community Partnership of the Ozarks, Council of Churches of the Ozarks, and Springfield Public Schools has grown to a collaboration that includes more than 15 organizations. This central referral hub simplifies service information and connects families with young children to resources supporting basic needs, family-friendly activities, child care, health resources, and support groups.
To harness the interest of early childhood professionals in raising the quality of care in our community, SPS, Ozarks Technical Community College and Every Child Promise have partnered to bring local professionals together to study and improve their programs serving young children in the Early Learning Leadership Academy.
With funding from Community Foundation of the Ozarks, Springfield early childhood professionals have created the Passport to Readiness app for smartphones that connects families to activities that help prepare children for school and life. The free app targets developmental milestones and local activities that will ensure healthy starts, reinforce learning, and encourage families to seek out activities within the community.
The app allows families to accumulate points that can be redeemed for children's books, toys or event passes that further encourage learning. Although funding was managed by SPS, members from more than 12 organizations participated in the design and implementation of the program.
RED
FLAGS

Children who have experienced trauma in their young lives are unable to manage the strong and often chaotic emotions they are left with. They bring all the hurt and stress to child care and school, which can lead to outbursts and disruptions.
Children experiencing trauma are more likely than their peers to be expelled from child care, as well as fall behind in school. Addressing challenging behaviors was a red flag in the 2015 report and continues to be an area of concern. A recent study conducted by local early childhood professionals revealed that preschool suspensions and expulsions in Springfield are twice the Missouri rate and 17 times higher than national K-12 rates. Preschool expulsions are associated with expulsions in later school grades as well as negative educational and life outcomes.
Although the child abuse and neglect rates in Greene County have improved slightly, it continues to be a devastating issue for the children and families impacted. Hotline calls have risen in the past year; however, substantiated rates are down slightly from previous years. Rates went from 405 children who were substantiated victims of abuse and neglect to 384 children. Although this reflects a 5 percent decline, the rate for Greene County is still above the state average.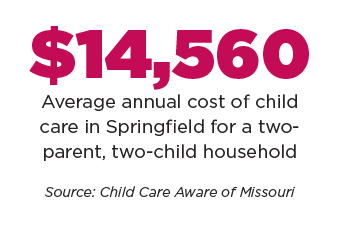 While parents who live at or below the poverty level are struggling to find affordable care, child care programs are struggling to stay solvent. Current rates do not adequately support improving quality; however, parents can't afford to pay more tuition. In Springfield, the average cost of child care for a two-parent household with two children (one infant and one 4-year-old) is $14,560. With both parents earning $9 per hour, working 40 hours per week, the family will pay more than half of their take-home pay in child care costs. Research suggests that, on average, families need an income equal to about two times the federal poverty threshold (or $48,072) to meet their most basic needs.
Blue-ribbon initiatives have fallen victim to funding cuts. For almost four years, community partners working closely with United Way of the Ozarks made the Dolly Parton Imagination Library available to more than 3,000 children in Springfield. These children received a combined total of more than 68,000 books. But lack of continued funding resulted in the program being deactivated in 2017.
It is hard to build strong partnerships and sustainable programs when there is uncertainty of when and where funding will be available. There have been many recent valiant attempts to fund early childhood services locally and statewide, and each time, hopes are dashed.
Fortunately, the state government approved fully funding the school formula in 2017. In the coming year, it has the potential to serve approximately 600 more preschool children in Springfield.
Community Voices
Students at Missouri State University gathered input from the Springfield citizens via Padlet. Respondents praised the efforts of community initiatives that help young children but worried about rising education costs.
"I'm worried how I'll be able to afford higher education once my children are grown."
"Big Brothers/Big Sisters is an amazing organization that works toward helping the children who need it the most."
"It tells me that when you focus and you target your resources to specific programs, whether it's Parents As Teachers or Wonder Years, you're going to get results."

— GERRY LEE
PRESIDENT, SPRINGFIELD PUBLIC SCHOOLS BOARD OF EDUCATION AND MEMBER OF THE MAYOR'S COMMISSION FOR CHILDREN
For current information on early childhood successes and challenges, visit CARES Engagement Network.