ARTS & CULTURE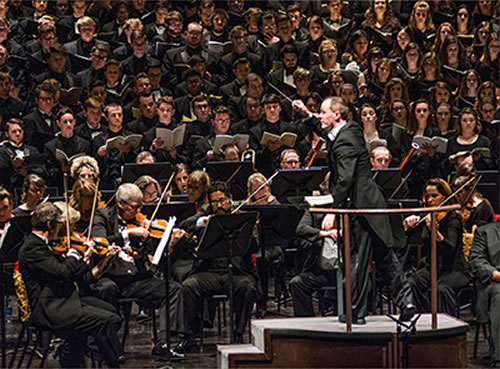 An economic force, seeking sustainability
The Springfield area's arts scene is thriving due to a tight-knit cluster of organizations, venues and dedicated patrons, but funding and long-term financial stability continue to be key challenges.
BLUE RIBBONS
Quality of programming
Community engagement
Collaboration
RED FLAGS
Sustainable funding
Capacity issues
limited full-time opportunities
Diversity
The arts mean business in Springfield. According to the Arts & Economic Prosperity Study 5 (AEP5), conducted by the Springfield Regional Arts Council and Americans for the Arts, the arts and culture sector delivers an annual economic impact of nearly $27 million, $17.1 million in audience spending and $9.8 million in organizational spending. Throughout the 2016 study period, arts and culture generated $2.3 million in local and state government revenue, and supported 1,065 full-time equivalent jobs.
BLUE
RIBBONS

Since the 2015 report, the quality of programming has continued to improve. Larger venues with capacities of more than 1,000 seats have brought globally recognized performances and concerts as well as regional premieres to the area.
Juanita K. Hammons Hall for the Performing Arts sold more than 34,000 tickets for "Wicked," one of the top 10 longest-running shows on Broadway. The musical's success spurred Hammons Hall to schedule another top Broadway musical, "The Phantom of the Opera," in May 2018.
Since 2015, JQH Arena — which has more than 11,000 seats — has hosted popular music icons such as Elton John and KISS.
The Gillioz Theatre, downtown Springfield's 1,015-capacity intimate venue, consistently hosts top-level entertainment, including Grammy Award-winning musicians.
Smaller capacity venues seating 300 or fewer have increased their programming presence since 2015. Springfield Contemporary Theatre offers consistent productions of thought-provoking and edgy material. In 2017, SCT featured "A Raisin in the Sun," "Hir," and "The Mountaintop," among others. Springfield Improv Theatre hosts improvisational comedy and live-action parodies most nights of the week.
Springfield went years without a room dedicated to standup comedy until Blue Room Comedy Club opened in 2016, welcoming some of the country's top touring comics. Live-music nightclubs bring touring bands across genres to Springfield on a nightly basis to supplement the burgeoning musical talent in the region.
Visual-arts organizations have increased programming as well, hosting nationally and internationally curated exhibits. With exhibits such as Watercolor USA and American Impressionism, the Springfield Art Museum set a record for annual attendance in fiscal 2017 with 58,475 total visitors, an 11 percent increase over the previous year.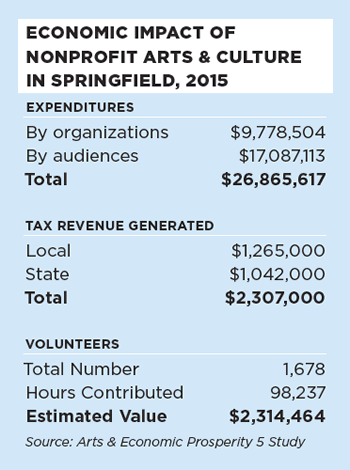 Springfield's arts community relies on strong community engagement from dedicated patrons and a legion of volunteers. Volunteers provide the necessary support in times of dwindling funding and tight staff capacity. The AEP5 found that 1,678 volunteers donated 98,237 hours to arts and culture organizations in Springfield in 2015.
The longevity of many community arts organizations has developed this robust volunteer base. Springfield Little Theatre has been in continuous use since 1909. The Springfield Symphony Orchestra formed in 1930 as the Springfield Symphony Society. Artsfest, in its 37th year, drew 20,000 guests in 2017 with the help of 200 volunteers. As these organizations have evolved, so have their abilities to engage and connect with the community.
Less tenured events are fueled by celebration and access. First Friday Art Walk, which became a regular downtown Springfield event in 2001, attracts 5,000 people at 24 exhibiting venues each month. The recent development of public art campaigns, like Sculpture Walk Springfield and pole painting in North Springfield's Moon City Creative District, provide ongoing arts interactions.
With limited and often shrinking resources, arts organizations depend upon intensive coordination, collaboration, and sharing to continue crucial programming. Arts in the Park Summer Workshops introduces underserved children from the Springfield Community Center to arts education over a two-month period each summer. The collaboration includes nine arts organizations, Missouri State University, Springfield Public Schools, and the Community Center.
Private and public entities alike participate in cross collaboration to address a diverse range of challenges and opportunities. Four organizations (the Springfield-Greene County Park Board, Sculpture Walk Springfield, Ozark Greenways, and the Springfield Regional Arts Council) collaborated for a Collective Impact grant from Community Foundation of the Ozarks to place four permanent sculptures in Jordan Valley Park in late 2017, an effort to address the 2015 community red flag of obesity. This focus on collaboration often extends beyond the arts and culture community to build connections to area businesses and other nonprofits, important pieces of the arts ecosystem.
RED
FLAGS

Sustainable arts funding — a consistent red flag in each Community Focus Report — continually eludes groups, and the threat of further cuts in funding at the national level has arts organizations bracing for even tighter budgets.
The state's primary arts granting arm, the Missouri Arts Council, received just 20 percent of its scheduled funding from the non-resident athletes and entertainers income tax in the 2016 fiscal year from the Missouri Legislature. Despite the nearly $20 million shortfall, AEP5 shows Missouri arts organizations turned the $4.8 million investment into $192 million of local revenue.
As explored in previous reports, financial limitations have created issues for organizations including a lack of adequate staffing, competitive salaries and benefits, and a constrained ability to update critical administrative systems and maintain facilities. These capacity issues also affect the ability for organizations to do outreach and develop programming to connect important audiences. Considering the importance of staffing, this leads to undesirable turnover, further limiting organizations' ability to grow and expand.
Though the arts contribute the equivalent of 1,065 full-time jobs, there are limited full-time opportunities for artists in the region. Employment statistics from the federal Bureau of Labor Statistics from May 2016 show no full-time practicing visual artists, musicians, and actors among Springfield's population. Photographers, writers, and video producers account for an estimated 230 jobs in the market. The lack of working artists puts our community at risk of losing creative minds to larger cities where perceived greater opportunity lies.
Local arts organizations must ensure diversity in their boards of directors, employees, and volunteers. A diverse representation is critical to building greater cultural equity in the community. The arts can lead the way in this conversation by cultivating groups that are fully representative of the community. According to 2016 census reports, Springfield is 88.7 percent Caucasian. An unofficial survey of area arts organizations reported 102 of their total 106 board of directors as Caucasian (96 percent), with three Hispanic/Latino leaders, one African American, and three persons reporting from the LGBTQ community. Recruiting diverse leaders, reaching new audiences, and supporting broad participation are important steps in efforts to better serve our community.
Community Voices
Students at Missouri State University gathered input from the Springfield citizens via Padlet. Respondents complimented the host of offerings locally, including public arts displays and events, and theater/music performances.
First Friday Art Walk is "a good excuse to be outside, in our beautiful downtown, and be around other community members. The new sculptures up downtown are so neat!!"
"If I get free time, I like to go to the plays that are offered, either through Little Theatre, MSU, OTC, etc. There is a very vibrant fine arts culture happening here. We should do all we can to support that."
"We've always known anecdotally arts and culture impact lives and support local businesses, but we've never had the capacity to confirm this with hard data until now."

— LESLIE FORRESTER
EXECUTIVE DIRECTOR, SPRINGFIELD
REGIONAL ARTS COUNCIL
For current information on arts and culture indicators, including volume of nonprofits in this area, see this map (pdf).