RECREATION, SPORTS & LEISURE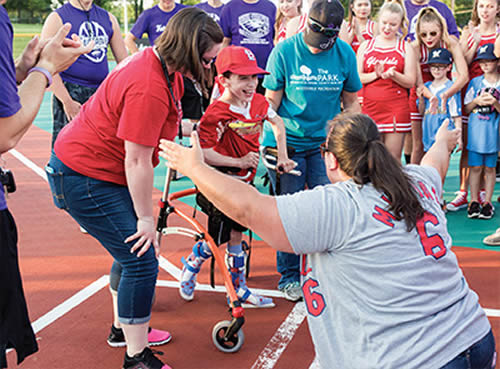 Recreation, parks prove a big draw for Springfield
A combination of public and private support for parks, trails, and sports contribute to a strong recreational foundation. But balancing funding with other community needs remains a challenge.
BLUE RIBBONS
Accreditation
Community collaboration and volunteer support
Trails and connections
Economic Impact
RED FLAGS
Obesity
Preserving green space
Parks funding
Residents and visitors agree: one of the best things about Springfield is its parks, trails, and sports and recreation opportunities. With more than 100 sites, Springfield parks offer 3 million visitors a year the chance to experience everything from aquatics to Dickerson Park Zoo.
BLUE
RIBBONS

In 2016, the Springfield-Greene County Park Board achieved full accreditation from the Commission for Accreditation of Park and Recreation Agencies (CAPRA). It is now among 155 accredited agencies — less than 2 percent of all U.S. parks and recreation agencies. The Park Board spent more than two years in the accreditation process, including extensive documentation of compliance with 151 national standards.
Dickerson Park Zoo has maintained accreditation through the Association of Zoos and Aquariums since 1986. Springfield Botanical Gardens at Nathanael Greene/Close Memorial Park was also accredited by the ArbNet Arboretum Accreditation Program in 2016.
Community collaboration is the key to success for the Park Board, which maintains an active partnership with some 300 local nonprofits, businesses and institutions. Primary partnerships include Springfield Public Schools, offering SPARC (School, Parks are Reaching Communities) youth childcare and sports programs at more than 20 sites, in addition to shared park and school playgrounds and other infrastructure. Sports teams from Springfield Public Schools and Missouri State, Drury and Evangel universities regularly practice and play at Park Board facilities.
"Friends" groups provide invaluable financial, advocacy and volunteer support, especially Friends of the Zoo at Dickerson Park Zoo, and Friends of the Garden at Springfield Botanical Gardens. The Park Board partners with the Springfield Sister Cities Association and the Springfield Regional Arts Council for arts and cultural events throughout the year. Other community partnership events include Turkey Trot and National Night Out. The Park Board continually collaborates with neighborhood associations and through the Zone Blitz, providing organizational support for neighborhood-initiated events such as Concert at the Cave, Dirt Day and dozens of Neighborhood Night Out events.
Collaboration with donors and sponsors has funded the majority of parks improvements since 2012, including construction of the Peace Through People Pavilion at Springfield Botanical Gardens, new seating and playing surface at Miracle League Field, the new Rotary Shade Sail picnic area at Jordan Valley Park, renovation of Timmons Temple at Silver Springs Park, and various Ozarks Greenways projects. Grants are another important source of capital improvement funds, with Neighborhood Works and Community Development Block Grants making several neighborhood park projects possible. Donations and grants make up 4 to 5 percent of the Park Board's annual revenue.
Park and recreation programs would not be possible without individual volunteers. In 2016, the Park Board screened 876 volunteers: gardeners, senior 55+ program providers, zoo workers, and youth sports coaches. Combined, these volunteers reported more than 83,000 hours of service. With volunteer work in Missouri valued $21.57 per hour by national nonprofit coalition Independent Sector, annual Parks volunteer service is worth nearly $1.8 million — roughly the same as 42 full-time employees.
Greenway trails and connections remain one of our community's most valued assets, and they are consistently busy with walkers, runners, cyclists, and nature enthusiasts. Conservative estimates place trail users at 114,000 a year. Ozark Greenways celebrated its 25th anniversary in 2016, and has now developed 70 miles of greenway trails.
Ozark Greenways' Trails for Generations funding initiative has raised more than $750,000 for trail improvements. Ozark Greenways opened the Trail of Honor at the Missouri Veterans Cemetery in October 2017, marking the country's first recreational trial spanning a national veterans cemetery. Additional improvements are planned for The Link, a north-south on-street bike and pedestrian route linking greenways, neighborhoods and activity centers.
Sports tourism continues to have a major economic impact. The Park Board, in partnership with the Springfield Sports Commission, hosts more than 50 national, regional and state tournaments, generating more than $15 million annually. Tournaments bring thousands of youth, college and adult athletes — as well as coaches and families — to Springfield hotels, restaurants, stores and attractions. The March 2017 National Homeschool Basketball Tournament alone brought 350 youth basketball teams to Springfield, filling every hotel room in town for a week, with visitor spending estimated at $4.2 million.
Professional sports teams include Springfield Cardinals AA minor league baseball, with average annual attendance of 315,000 - 350,000, Springfield Lasers World TeamTennis, and http://www.springfieldexpress.com/ Junior-A hockey. Combined with university sports teams, fans enjoy supporting home teams while contributing to the economy.
And after years of investment and renovation, the new Wonders of Wildlife National Museum and Aquarium opened to the public in September 2017, the largest attraction to open in Springfield since Hammons Field in 2004.
RED
FLAGS

Springfield's obesity rate has been a red flag since 2007. SPARC running clubs at elementary schools and the summer Run for Fun club give youth structure to stay active. Family Centers, accessible for many seniors through the Silver Sneakers program, offer aerobic classes, workout machines, indoor walking tracks and indoor pools.
The Springfield Business Journal reports the largest fitness centers in Springfield, combined, have a membership of more than 78,000.
Walking is the most accessible form of exercise. The Park Board supports the Healthy Living Alliance in community walking programs, including the Move Your Shoes Challenge, encouraging neighborhood and business walking groups, and the Walkable Neighborhood Project, surveying neighborhoods and identifying steps to make a more pedestrian-friendly city.
Preserving green space for future parks, trails, stormwater and natural areas is another long-term concern, a red flag since 2011. Specific recommendations for expanding public parkland are included in Field Guide 2030. New park acquisition and development was dramatic 2001–2012, with capital funding through a parks sales tax. With the expiration of that funding stream, however, parks expansion has slowed significantly, and recently has been limited to greenway development.
Further parks development is hindered by parks funding, a red flag since 2009. The Park Board is entirely self-funded through dedicated parks tax revenue and user fees. Parks receives virtually no funding from the City of Springfield, Greene County, or the State of Missouri. When the last park sales tax sunset in 2012, the Park Board budget took an immediate $7 million cut. Since then, nearly all new park and trail development has been funded by grants and private donations.
Until a new funding source is secured, much of the 20-year Parks Master Plan and the Field Guide 2030 recommendations remain on hold, and the Park Board has few options to address long-term needs.
Community Voices
Students at Missouri State University gathered input from the Springfield citizens via Padlet. Respondents praised the parks facilities and events for helping to build a sense of community.
"The more cultural interests we can explore the better. ... More ways to lift up small pockets of interest that help create awareness, exposure, and acceptance (instead of dividing lines, hatred, etc.)."
"I like to be downtown or out exploring the parks that Springfield and the surrounding areas have to offer to residents!"
"The Park Board is a fully-accredited, Gold Medal-winning agency: the elite of the elite. The community of Springfield reaps the benefits of that, and it just seems normal to us. But when you visit other communities, you begin to realize that the parks and recreation opportunities we have in our own back yard are really special."

— DR. SARAH MCCALLISTER
DEPARTMENT HEAD, MISSOURI STATE UNIVERSITY DEPARTMENT OF KINESIOLOGY AND CHAIR OF THE SPRINGFIELD-GREENE COUNTY PARK BOARD
For current information on public amenities, visit CARES Engagement Network.