HOUSING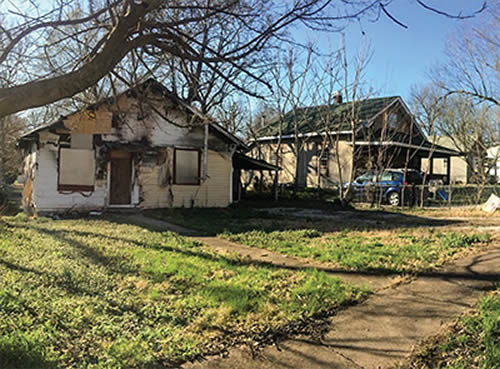 Expanding the base of safe, affordable housing
Collaborative programs seek to reduce homelessness by providing more available options. Still, dozens of people remain without permanent shelter.
BLUE RIBBONS
Collaboration efforts lead to safer homes
Expanding inclusive housing
Homeless services streamlined
RED FLAGS
Limited capacity for vouchers and public housing
Affordability of rental housing
Housing quality impact on health and safety
Homeless population increasing
Housing is a basic need that is a crucial part of human existence. Lack of safe and decent housing impacts our ability to live, work, and be part of our community. Collaboration is key, and agencies, advocates, and local government must work together to create innovative ways to meet our community's increasing needs that strain limited resources. A homeless assistance approach that prioritizes providing permanent housing to people experiencing homelessness serves as a foundation by which people can begin advancing their pursuit of greater life goals, improving their quality of life.
BLUE
RIBBONS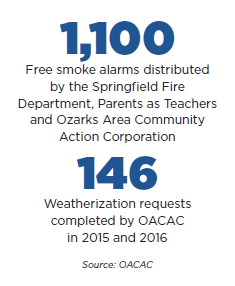 Collaborative efforts lead to safer homes. The Springfield Fire Department partnered with Parents as Teachers and Ozarks Area Community Action Corporation (OACAC) to provide free home fire-safety surveys to 504 families with young children in 2016. Springfield families also received more than 1,100 free smoke alarms, 850 smoke alarm batteries and 40 free fire extinguishers.
In 2016, 26 families were referred to the Safe and Sanitary Home program, a voluntary program for families recovering from hoarding and severe squalor. Volunteers donated about 500 hours to the program, including the cleanup of eight residences.
In 2015 and 2016, OACAC completed a total of 146 weatherization requests — 128 homeowners and 18 rentals — to increase efficiency of homes, alleviate substandard living conditions, reduce energy use, and increase safer, healthier living environments.
Universal design is now an integral part of public housing in Missouri. The Missouri Housing Development Commission's board of directors formally voted to require that, beginning in 2016, all new construction projects for elderly and single-family dwellings supported by MHDC shall be designed and built in accordance with the principles of universal design, which allows all citizens, regardless of ability level, to live independently to the fullest extent possible. This change not only helps meet the needs of disabled consumers but also provides the developer with a wider market. Additionally, it builds value in our housing stock by eliminating the cost of retrofitting units so they can be used by individuals with accessibility needs. As the market for universal design continues to grow, development of this type of housing should, too.
The Ozarks Alliance to End Homelessness has launched a coordinated entry system to help streamline homeless services in Greene, Christian and Webster counties. Through an expansion of Community Partnership of the Ozarks' One Door program, individuals experiencing homelessness or a housing crisis can more easily access housing and services that best fit their need through a universal assessment and referral approach for all entry locations.
Since 2013, The Kitchen Inc.'s Home at Last program has served 348 veteran households. The program provides eligible veteran families with outreach, case management, and assistance in obtaining benefits. It also offers temporary financial assistance and/or services as a bridge to long-term stability. In August 2016, The Kitchen received a substantial grant through the Veterans Administration and will be able to provide housing and services for approximately 150 households in Greene, Christian and Webster counties over the next five years.
Eden Village, a neighborhood development designed by The Gathering Tree to combat homelessness, is working to provide 400-square-foot micro houses for Springfield's chronically disabled homeless.
RED
FLAGS

Both the 2013 and the 2015 Code of Federal Regulations listed as a cause for concern insufficient housing vouchers to meet the community's needs. Over the past two years, both OACAC and the Housing Authority of Springfield (HAS) report that their allotment of vouchers for the general public has remained flat. OACAC, which administers vouchers for Greene County outside the City of Springfield, reports that the wait time for a voucher continues to be long. As of March 1, 2017, they were serving persons who applied before April 22, 2014. Likewise, HAS reports that the waiting period for a voucher within the city limits is about two years. HAS maintained a low vacancy rate of about 2 percent over the past two years for its 766 affordable housing units.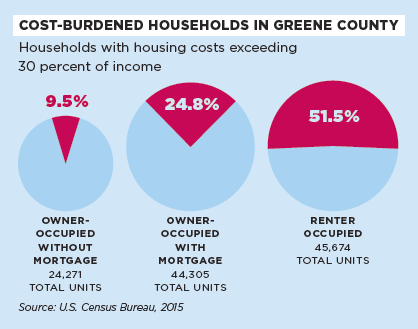 According to the U.S. Census Bureau's American Community Survey 2011-2015 estimates, more than 50 percent of rental homes in Greene County are not affordable, meaning those households spent more than 30 percent of their income on housing and utility costs. These families will have difficulty paying for necessities such as food, clothing, transportation and medical care. A single person working 40 hours per week at a minimum wage job in Missouri should spend no more than $400 per month on rent and utilities for a home to be considered affordable.
The Centers for Disease Control and Prevention (CDC) estimates that the U.S. population spends an average of 90 percent of their time indoors. Therefore, housing quality is an important factor when considering a healthy and safe living environment. In 2014, an estimated 450,530 (9.7 percent) adults and 152,007 children (11.2 percent) in Missouri were living with asthma. Referrals are being made to improve housing through weatherization programs, emergency loan programs, and complaint-based housing inspection requests in the city (over 1,000 in 2015-2016), Still, there is an opportunity and need to improve housing quality to impact health and safety.
Nearly 800 individuals are homeless in Springfield; over 200 of those are unsheltered households, sleeping outside or in places not meant for human habitation — cars, abandoned buildings, camps. Though services for the homeless continue to improve, trends in homelessness continue to rise in the Springfield area, especially for single adults. Point in Time counts conducted by the Ozarks Alliance to End Homelessness show that the number of single adults who are unsheltered has risen from 150 in 2012 to 186 in 2016. As homelessness rates have risen, the number of permanent housing units to aid homeless households has also risen from 103 in 2012 to 195 in 2016.
Community Voices
Students at Missouri State University gathered input from the Springfield citizens via Padlet. Respondents praised community-driven efforts to combat homelessness.
"Habitat for Humanity has helped many low income families to finally have an affordable home."
"I think the Eden housing is a step in the right direction to address poverty resources and homelessness."
"Having developed affordable housing for over 20 years, I know firsthand of the incredible difference it can make in people's lives. Good quality, affordable and accessible housing stabilizes families and is the first step in helping them become productive members of our community."

— MARIE CARMICHAEL
AFFORDABLE HOMES DEVELOPMENT LLC
For current information on housing in the Springfield area, visit CARES Engagement Network.