BUSINESS & ECONOMIC CONDITIONS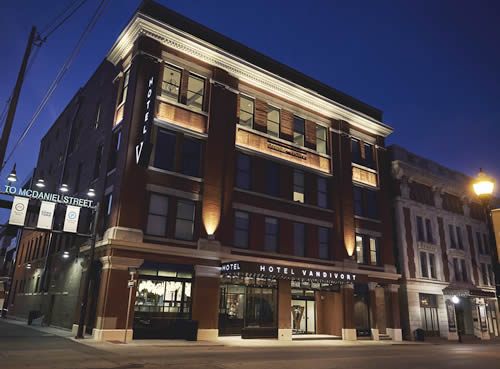 Economic growth steady while wages stagnate
Spurred by low costs, Springfield's unemployment rate continues to be lower than the national average, while higher education opportunities remain catalysts for local business.
BLUE RIBBONS
Continued economic strength
Steady economic growth
Education, entrepreneurship and innovation
Affordable cost for business
RED FLAGS
Funding for education and talent development
Impact of poverty and low wages
The foundation of any healthy community is a strong economy, and Springfield is experiencing a resilient post-recession economy. Development in all corners of the community, diverse business sectors, and an affordable cost of living are framing Springfield's economy.
BLUE
RIBBONS

Springfield's economy, often heralded as the state's economic engine by legislators and decision-makers, has shown continued strength and steady growth since the last report. It has maintained its strength for nearly a decade, built on a diverse set of industry sectors. Health care and education are the largest employers, followed by manufacturing, logistics, information technology, retail and other businesses of all sizes that continue to flourish in the area. The unemployment rate for the Springfield Metropolitan Statistical Area (MSA) has hovered between 4 percent and 5 percent for more than a year, consistently lower than the state and national rates. Both employment and labor force numbers are up by roughly 6 percent over the last decade.
Growth also continues throughout the region. Redevelopment along both ends of Sunshine Street have revitalized that important corridor of the city, while the development of the new Veterans Administration clinic will be an anchor in southwest Springfield. Downtown redevelopment remains strong, with projects such as the five-star Hotel Vandivort and continued student-housing development. Business owners and developers are also investing in north Springfield, with continued revitalization of Commercial Street and the opening of a job center to meet a critical community need. Industrial development also continues apace, with the first new Partnership Industrial Center West developments in several years bringing 113 jobs to the area. Expansions at the Kraft Heinz and 3M facilities contributed to the addition of more than 200 manufacturing jobs since January 2017.
The spirit of innovation starts with a strong education system. Programs such as the Greater Ozarks Centers for Advanced Professional Studies (GO CAPS) expose high-school juniors and seniors to potential professional opportunities, while the GO CAPS Teacher Externship Program lets area teachers shadow workers and take the business experiences back to their own classrooms.
Higher education institutions form the foundation of the area's economy. Besides serving as major employers for the community, Springfield's colleges and universities are training nearly 50,000 university and college students in the area, and businesses are ready to tap into this large, in-demand labor pool.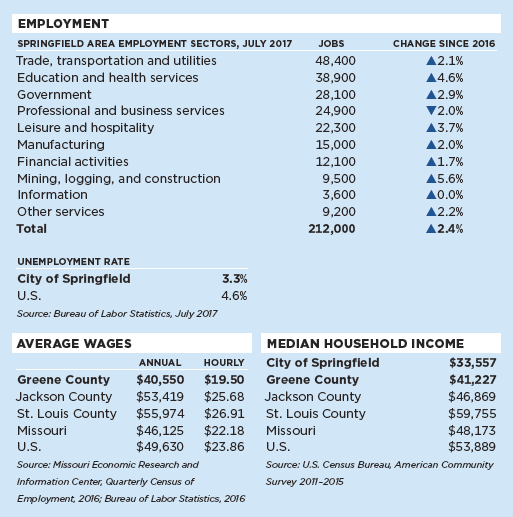 Entrepreneurship and innovation initiatives such as the Missouri State University's eFactory and the Kauffman Foundation's 1 Million Cups encourage new business ideas, while Ozarks Technical Community College works to train and develop the workforce. That combination has led publications such as Forbes to name Springfield one of the top U.S. cities to start and grow a business.
Another reason for Springfield to be a good place to grow a business is the affordable cost of doing business. Previous reports have noted the low cost of living, and that remains the case — 10 percent lower than the national average, according to Kiplinger. But low costs extend to business as well.
Wages are well below the national average, land costs are reasonable for a Midwestern metro area of similar size, and both land and facilities are available within reasonable distance to the city's core. In addition, electricity, water and natural gas rates are some of the most affordable in the nation.
RED
FLAGS

Springfield's potential growth could be negatively impacted by several factors, many of which are related to lack of available funding for necessary programs.
Many area companies have indicated to Springfield Area Chamber of Commerce that their top impediment to growth is the need for more skilled workers to meet demand. While the education system and efforts like the Chamber's Talent Attraction Initiative are designed to help address those issues, they are likely not enough to meet the need.
Additional funding for state and federal workforce development programs is crucial to allow companies to develop both the technical and soft skills they need for their existing employees and potential new hires. Enhancing these programs also could lure students from other parts of the region to the Ozarks, helping to further enhance the talent pipeline for the future.
Educational opportunities combined with creating a community that is attractive to young professionals will be key to the success of Springfield's future growth.
Poverty and low wages in some sectors remain significant issues for area citizens. They contribute to myriad societal issues, many of which can hamper economic growth. This in turn makes it more difficult to add jobs and increase wages, the very tools necessary to break the overall cycle of poverty. And although the region's cost of living is low, the Springfield's median household income is 60 percent of the average U.S. median income.
In addition, the continued low unemployment rate means many businesses have difficulty finding adequate numbers of workers to meet the demand created by growth. Without access to additional training or opportunities, many unemployed or underemployed workers lack the access to career advancement that could allow them to work their way out of poverty.
Community Voices
Students at Missouri State University gathered input from the Springfield citizens via Padlet. Respondents focused on declining wages and residents' decreased potential for earnings.
"I enjoy spending time downtown, we have some great local restaurants and bars."
"We had good-paying jobs once, but with the loss of many Frisco jobs and major employers at some of the manufacturing plants that closed, wages have gone down for many of the jobs available now."
"It is an exciting time to be part of the Springfield community. We have so much to celebrate — new growth and development throughout the region, national rankings and recognitions, top-notch education institutions and, running through it all, a strong entrepreneurial spirit. Equally as important, we are working together to identify and solve our community's challenges."

— JOHN WANAMAKER
BOARD CHAIRMAN
SPRINGFIELD AREA CHAMBER OF COMMERCE
For current information on business and economic indicators, including household poverty and unemployment rates in our area, visit CARES Engagement Network.