UNDERSTANDING OUR COMMUNITY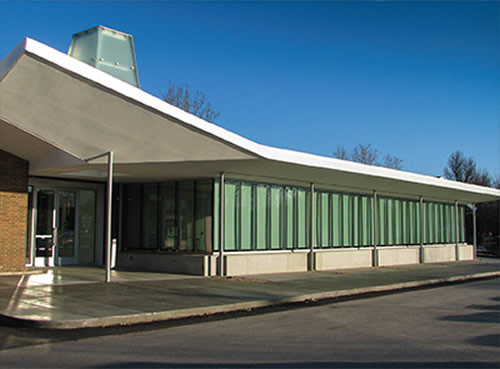 Uncovering facts in an age of information overload
Solving community problems requires valid information. But with the proliferation of unverified, misleading content online, where should citizens begin their search?
Defining today's community problems requires high-quality information from valid sources. In an era when some willfully cloud difficult issues with misinformation, it is incumbent upon us as citizens to become adept at fact-finding and verification.
The Springfield-Greene County Library District has compiled some tips and strategies for discovering information from well-researched sources, including government agencies and nonprofit organizations.
"To be information literate, a person must be able to recognize when information is needed and have the ability to locate, evaluate, and use effectively the needed information."

— THE AMERICAN LIBRARY ASSOCIATION
Social networks allow misinformation to spread like wildfire. The ability to think critically when presented with new information is crucial. How do you check the veracity of the information?
Keep reading.
Don't stop at the headline. Headlines are designed to grab our attention, but they don't tell the whole story. Read the article before jumping to any conclusions.
Find out who created the article.
Anyone can share an article, but to determine whether it is reliable information, you need to determine the source. Often, you can use the article's Web address to see where the article was originally posted. Reputable news outlets have recognizable Web domains. Also, addresses ending in .edu, .gov, or .org are generally more reliable than those ending in .com or other top-level domains.
Learn a little more about the author.
Do an Internet search of the author's name to verify credentials, and find out what else he or she has written. Does the author have the authority to write on the subject? The Internet gives anyone a platform to publish opinions; online publication doesn't guarantee accuracy.
Check the sources.
Just because an article cites official-sounding sources doesn't mean those sources are real. Be sure information is presented in the proper context as well.
Determine when the article was originally published.
Outdated information sometimes enjoys a resurgence through social-networking sites. Check the article's date — is it even still relevant?
Reverse image search.
Fake articles often recycle old photographs. Right-click on the photo in the article, and choose to search Google for the image. If you find the same image in numerous articles on different topics, that's a sign you may be dealing with a questionable article.
Run it through Snopes.com.
Snopes.com is an independent fact-checking Web site. If you stumble across something online that sounds either too good to be true or a little off, run it through the search box at Snopes.com to see whether it has already been debunked.
Intrigued by the data highlighted in the report and ready to learn more? All of this data is at your fingertips. The following sources will help you get started.
Statistical Abstract of the U.S.
In production since 1878, the Statistical Abstracts of the United States is a comprehensive collection of statistics on the social, political, and economic conditions of the United States. The U.S. Census Bureau ceased funding the Statistical Abstracts in 2011, the data is now compiled and published by Proquest. The library provides access to this data in both print and database formats.
U.S. Census Bureau
WWW.CENSUS.GOV
The mission of the U.S. Census Bureau is to "serve as the leading source of quality data about the nation's people and economy." Data from the U.S. Census, gathered every 10 years, is publicly available on the bureau's site. Between decennial censuses, the American Community Survey gathers demographic data. That information is available through the bureau's American FactFinder portal.
FBI: Uniform Crime Reporting Publications
UCR.FBI.GOV/UCR-PUBLICATIONS
The Uniform Crime Reporting (UCR) Program includes four annual publications: "Crime in the United States," "National Incident-Based Reporting System," "Law Enforcement Officers Killed and Assaulted," and "Hate Crime Statistics." More than 18,000 city, university/college, county, state, tribal, and federal law enforcement agencies voluntarily participate in the program to supply data for these publications.
Data.gov
WWW.DATA.GOV
The U.S. General Services Administration manages and hosts Data.gov. This site, launched in 2009, is a repository for federal government information. While intended for civic researchers, it is made available to everyone. You will find data sets on varied topics, such as consumer trends, education, and public safety.
Missouri Economic Research and Information Center
WWW.MISSOURIECONOMY.ORG
On this site, you will find economic data compiled by the research division of the Missouri Department of Economic Development. Among the data available: average wages by county, cost of living data, unemployment rates, employment projections, and green-jobs reports.
Missouri Department of Health & Senior Services Community Data Profiles
WWW.HEALTH.MO.GOV/DATA/COMMUNITYDATAPROFILES/
This department compiles statistics and reports on alcohol and drug abuse, child health, chronic disease, emergency room visits, hospitalizations, and more. The community-health data can be explored by county.
Missouri Department of Elementary & Secondary Education School Data
WWW.DESE.MO.GOV/SCHOOL-DATA
Find data related to college and career readiness, Missouri school districts, early childhood education, educators, and special education.
Pew Research Center
WWW.PEWRESEARCH.ORG
The Pew Research Center, established in 2004 as a nonpartisan "fact tank," measures public opinion on a variety of topics, including gun ownership, gay marriage, and economic conditions. Along with the reports, the public has access to the data sets used to create them.
Access to Information Professionals & Research Tools
Need to talk to a research professional? The following organizations all provide research assistance to the general public for free.
SPRINGFIELD-GREENE COUNTY LIBRARY DISTRICT
10 BRANCHES IN SPRINGFIELD & GREENE COUNTY
Serving the community since 1905, the Springfield-Greene County Library District offers research assistance and public access to reference materials in print and online. Anyone can get assistance in one of the branch libraries. A library card account is required for remote access to online resources.
DUANE G. MEYER LIBRARY
MISSOURI STATE UNIVERSITY,
850 S. JOHN Q. HAMMONS PARKWAY
Located on Missouri State University's campus, Meyer Library is open to anyone in the community. Those not directly affiliated with MSU cannot check out materials, but they can access research assistance and resources available on site.
VAN K. SMITH COMMUNITY HEALTH LIBRARY
C.H. CHUB O'REILLY CANCER CENTER,
CANCER RESOURCE CENTER,
2055 S. FREMONT AVE.
Open to members of the community in southwest Missouri and northwest Arkansas, the Van K. Smith Community Health Library offers services and resources for the health consumer. Register for a free library card to check out books, videos, and audio resources.
OTC HAMRA LIBRARY
OZARKS TECHNICAL COMMUNITY COLLEGE,
1001 E. CHESTNUT EXPRESSWAY
Hamra Library, on the Ozarks Technical Community College campus, can assist the public with research requests on a case-by-case basis. If members of the public would like to use Hamra Library's services, it is advised that they email or call ahead for an appointment.
Community Commons
WWW.COMMUNITYCOMMONS.ORG

Community Commons is a joint project of Community Initiatives Network, the Institute for People, Place and Possibility, and the Center for Applied Research and Environment Systems at the University of Missouri-Columbia. It provides a centralized hub of hundreds of data sources for individuals, agencies and organizations trying to understand the issues facing their communities. Its site includes mapping and analysis tools for public use.