PUBLIC ORDER & SAFETY
Public safety is the protection of a community from dangers emanating from crime and disasters. Typically expressed as the responsibility of government, public safety is a collective of public and private organizations that operate in concert to provide for the safety and welfare of the citizenry. These include law enforcement, fire protection, emergency medical services, and emergency management.
BLUE RIBBONS
Voter Support for Public Safety
One of the hallmarks of Springfield-Greene County is the support citizens have given to public safety agencies. In recent years, citizens have supported major renewable tax initiatives:
In 2014, Springfield voters renewed a ¾-cent sales tax first passed in 2009 to address the police/fire pension fund shortfall.
Republic voters passed a ⅛-cent capital improvement sales tax dedicated to replacing Republic Fire Department equipment in 2013.
Law Enforcement Sales Tax II is a ⅛-cent sales tax passed by Greene County voters in April 2012 to fund additional staff for the Sheriff, Prosecutor, Juvenile Office, and Pretrial Supervision. In addition, 10 percent of the funds are dedicated for renovations to the jail, a juvenile courtroom and the Juvenile Office.
The City of Battlefield approved a tax in 2012 to hire an additional police officer each year for three years with the possibility of one additional officer depending on future revenue.
Community Impact
The Greene County Office of Emergency Management (OEM) received re-certification with the National Weather Service as a "Storm Ready Community" in 2015.
In the past three years, the Springfield Fire Department (SFD) has hung more than 10,000 door hangers that include fire-prevention tips at apartments. During this period, the City has not experienced a significant apartment fire caused by accidental or careless acts.
At the heart of public safety is the concept in which our citizens rely on a variety of highly skilled practitioners who are tasked with the management and coordination of resources to provide for the safety of our community. Simply stated by the Roman philosopher, Marcus Tullius Cicero, 'The safety of the people shall be the highest law.'

BOB CIRTIN
PRESIDING COMMISSIONER OF GREENE COUNTY
Due to the efforts of the SFD, 12 Springfield employers were designated Springfield LifeSave organizations in 2014, meaning either 50 percent of their workforce or 50 employees are certified in compression-only cardiopulmonary resuscitation and automatic external defibrillator use.
The average age for first use of alcohol has increased from 12.55 in 2010 to 13.12 in 2014 through community education, alcohol compliance checks by law enforcement and the Responsible Beverage Service Support Program offered through Community Partnership of the Ozarks (CPO) and Missouri Safe & Sober (which has reached 291 schools and more than 127,000 students statewide).
Overall, Springfield Police Department (SPD) and Greene County Sheriff's Office (GCSO) Uniform Crime Report Part I crimes—homicide, robbery, rape, aggravated assault, burglaries, theft, and auto theft—sharply decreased in 2014, reversing a decade-long trend of gradual increases. At the same time, the number of cases solved has steadily increased.
Enhanced and new SPD crime-prevention programs include Neighborhood Watch, Apartment Watch, Business Watch, and Citizens Alert Patrol.
Southeast Rotary's "Don't Meth with Us" anti-drug program expanded from Springfield Public Schools to several surrounding school districts, as well as growing to include ninth graders along with fifth and seventh graders.
Addressing Family Violence Issues
The SPD spearheaded the Family Violence Task Force in 2012 upon discovering an upward trend in violent domestic assaults. Since then, the task force became a subcommittee of the Violence Free Families Coalition under CPO. A Verizon Hope Line grant of $15,000 funded the second annual "Stop the Violence" conference, allowing the task force to bring in national experts to share insights and effective strategies. The number of attendees increased by 78 percent compared to 2013. Additional strides to address this community issue also have been made:
Missouri State University, Drury University, Ozarks Technical Community College, and Evangel University are implementing programs to decrease sexual assaults among college students.
CPO collaborated with the Greene County Prosecuting Attorney's Office, Children's Division and Child Advocacy Center to create online mandated reporter training.
SPD began using a lethality assessment in 2014. The assessment allows victims to realize the potential lethality of the situation they are in, has aided in investigations and prosecution and has led more victims to seek assistance at Harmony House and The Victim Center.
Professional Standards
All public safety agencies are encouraged to strive for accreditation. It is achieved by a small percentage of public safety agencies nationwide and exemplifies that the agency establishes and maintains high standards.
Our community is one of only two in the country that can boast of accreditation in each of these areas:
The SPD has been accredited by the Commission on Accreditation for Law Enforcement Agencies (CALEA) since 1998.
The SFD has been accredited by the Center for Public Safety Excellence Accreditation Program administered by the Commission on Fire Accreditation International since 2008.
OEM was accredited by the Emergency Management Accreditation Program in 2012.
Public Safety Agency Cooperation/Collaboration
To increase information sharing, in 2013 the GCSO and the Republic Police Department joined the SPD in using the NICHE records-management system. This has enabled the agencies to more effectively communicate and collaborate with each other.
In October 2013, the Republic 911 Center merged with the Springfield-Greene County 911 Emergency Communications Department (ECD). This created a true county-wide public safety communications center for all 23 public safety agencies, resulting in improved efficiency and more effective dispatching. In 2014, an upgrade to the Computer Aided Dispatch (CAD) system modernized the technology in use. A new 911 backup location was identified, fully equipped, and is now operational in the Springfield Regional Police and Fire Training Center.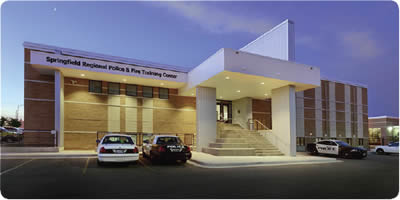 Over the past two years, the SFD has reduced duplication and increased on-scene staffing by entering into mutual and automatic aid with 15 fire agencies in the area.
RED FLAGS
Increased Demand for Service
The Springfield-Greene County 911 ECD is the "first" first responder. Most calls for a police or fire response begin with a 911 call. The ECD serves nine law enforcement and 14 fire agencies, and the workload for telecommunicators has increased every year.
The entire criminal justice system faces many challenges. The Greene County Justice Center, where 80 percent of detainees in 2014 were repeat offenders, is increasingly overcrowded. Felony cases referred to and filed by the Greene County Prosecutor have both steadily increased.
Increasing Rate of Domestic Violence
As noted in the 2013 Community Focus Report (CFR), domestic assaults continue to be a serious issue. The most serious domestic assaults, when one purposely attempts to cause severe bodily injury, many times using a weapon, are classified as "aggravated assaults." The total number of aggravated domestic assaults reported in 2014 increased by nearly 20 percent from 2013. Although increased enforcement efforts and increased public awareness of domestic violence issues, both locally and nationally, may have had an impact, it remains clear that officials must continue to work in partnership with citizens to address this issue in the future.
Illegal Drug Use
Illegal drug use has been a red flag in every CFR since 2004 and continues to be a major problem in the community. Seizures of meth labs plummeted in 2014; however, the amount being imported is at an all-time high, causing the use of methamphetamine, and the amount being seized by SPD, to multiply each year.
Heroin use dramatically increased from 2013 to 2014, driven by people using heroin in "button" or pill form (which appears to be less dangerous to youth) rather than the traditional intravenous use.
The diversion and abuse of prescription drugs is a growing problem. Seven percent of Greene County 12th graders report current use of prescription drugs for non-medical purposes, and 18 percent report having tried prescription drugs for non-medical purposes. Prescription drug abuse by students at school has exceeded alcohol use by those same students. In contrast, 26 percent of Greene County students report synthetic drugs are harder to obtain, and less than 1 percent of Greene County youth are using synthetic drugs compared to all Missouri students grade 6–12.
Preventable Fatalities
Springfield and Greene County have experienced an increase in tragic deaths. Significant work needs to be done in each of the following areas to reduce the number of preventable fatalities in our community:
Fire deaths—Over the past five years, we have experienced an average of 6.4 deaths per year. This is very high compared to other communities: Springfield-Greene County averages 22.5 deaths per million, compared to the national average of 13.3 per million.
Traffic fatalities—The number of people killed in traffic crashes peaked in 2012 with a total of 58 fatalities. Primary causes include impairment by drugs or alcohol, distracted driving, medical conditions, and those involving pedestrians.
Homicides—The number of murders in Springfield and Greene County spiked in 2012 and 2014. Approximately 90 percent of the victims knew their attackers and 25-30 percent each year can be attributed to domestic violence.
Follow Greene County's progress on public safety issues, including violent crime rate and accident rates, at
Community Commons
.