BUSINESS & ECONOMIC CONDITIONS
A strong economy is critical to so many areas of community life. Not only do healthy businesses spend money in the local economy, but they put people to work, and these workers can buy houses, cars and strive to provide themselves and their families with a higher quality of life. Additionally, all levels of government depend on this spending cycle to generate tax revenue to fund vital public services like transportation systems, infrastructure, schools, public safety, and other community programs. Often, the business community is a leader in addressing important local issues, such as strong governance, diversity, sustainability, poverty, and civic engagement. When businesses are strong, the community is strong.
BLUE RIBBONS
Steady Economic Growth
Springfield's economy has grown steadily in the last five years, with job growth consistently bucking state and national averages. As of June 2015, the Springfield metropolitan statistical area's (MSA) unemployment rate was 5.4 percent, compared to 5.8 percent for Missouri and 5.5 percent nationally. Our workforce has grown more than 10 percent over the last decade, the equivalent of 20,353 new jobs, and the size of our labor pool is now 230,330.
Springfield is constantly growing, adapting and thriving. Our unique ability to partner and collaborate within our community has led to a great deal of innovation and growth in our economy and will also be essential to mitigate our challenges.

DEBBIE SHANTZ HART
CHAIRMAN-ELECT, SPRINGFIELD AREA CHAMBER OF COMMERCE
Economic diversity has played a significant role in the stability and growth of the regional economy since the 2005 Community Focus Report (CFR). Even with the major economic impacts of higher education and healthcare, which have seen significant growth in recent years, no one economic sector truly dominates business activities. Manufacturing, logistics, corporate and back office, information technology, professional services, retail, and other types of businesses—large, small and even startups—flourish in Springfield.
Resurgence of Development
A blue-ribbon staple present in several past CFRs has been the significance of the redevelopment in Springfield's downtown that began in the 1990s. With many of the economic indicators now back at pre-recession levels, Springfield is seeing another resurgence of development, most visibly in the downtown area.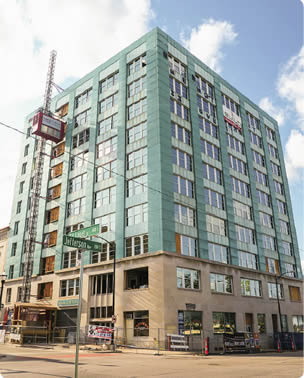 Since Jan. 1, 2013, there has been almost $200 million in new development downtown. Despite the revitalization of many downtown buildings, some of the major architectural anchors, such as the Heers, McDaniel and Woodruff buildings, stood vacant for years in desperate need of attention. Now, through significant investment from the private sector, all have been redeveloped.
While growth may be more noticeable downtown, development also is occurring across the city within a wide variety of industries, reaching far beyond the urban core including the Farmers Park Development, the former Solo Cup plant, the Mercy Orthopedic and Rehabilitation hospitals, and additions to Partnership Industrial Center West.
Higher Education & Talent Attraction
As noted in all previous CFRs, the region's numerous higher education institutions are tremendous contributors to our economic vitality. Nearly 50,000 university and college students are gaining new skills in Springfield, and businesses tap into this large, and in-demand, labor pool. In addition, in January 2014, the Springfield Area Chamber of Commerce launched the Talent Attraction Initiative to help employers recruit talent from outside of the Ozarks. The effort is specifically designed to target individuals with significant experience, a gap in the talent pipeline identified through direct feedback collected by the Chamber from area employers. This focus on the talent pipeline has risen to the top of the priority list for many local institutions and is in direct response to companies' needs. The public school system, the higher education systems, government agencies, and the business community are all collectively focused on how to ensure the best and brightest call Springfield home.
Entrepreneurial Culture
Springfield has made significant progress in fostering a culture that allows entrepreneurs to start and grow new businesses. As mentioned in the 2013 CFR, Missouri State University's eFactory, located in the Robert W. Plaster Free Enterprise Center, has become Springfield's front door for entrepreneurship. It offers physical space for start-up and early-stage companies, business counseling services, peer-networking opportunities, and other benefits for the entrepreneurial community. Since 2013, several new programs and events have launched including the Kauffman Foundation's 1 Million Cups, Mercy Research and Development's SPIN66, Startup Weekend, and the Go BIG pitch competition. Additionally, Springfield was recently named as the 3rd best city in the nation to start a business and the top city when it comes to accessing resources for startups, in a study published by personal finance site WalletHub.
Low Cost of Living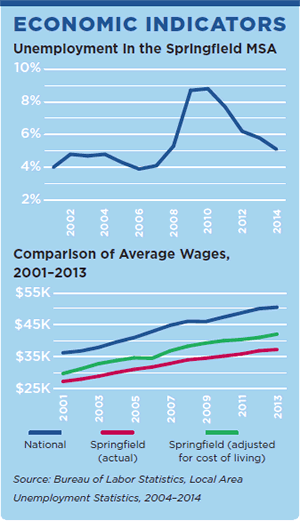 A blue ribbon since the 2004 CFR, Springfield's low cost of living means a person's income goes further here than in other cities. The 2014 average annual Cost of Living Index ranked Springfield the second least expensive place to live in Missouri and 55th in the nation. Overall, Springfield's cost of living is 9.6 percent below the national average. The difference is especially significant in housing costs at 26.7 percent below national averages. Springfield's low cost of living encourages in-migration and continued economic growth.
RED FLAGS
Talent Pipeline
A community's supply of qualified labor is one of the most important issues in economic development. Not only is labor a top factor for companies deciding where to locate a facility, it also can influence their decision on where to invest and create jobs at existing facilities. Historically, the Springfield region has been fortunate to have a sufficient workforce for new and existing companies, but that may not always be the case. As the baby boomer generation leaves the workforce, there are not going to be enough people in subsequent generations to fill their positions. As unemployment continues to fall, individuals with highly specialized skills will be in extremely high demand. Developing a workforce pipeline and retaining talent with these high demand skills will be crucial to attracting and retaining employers and maintaining Springfield's growth in the years to come.
Funding for Education & Training Programs
Missouri currently ranks 44th in the nation for higher-education funding. Not only are our public institutions fighting for fewer dollars at the state level, but there is constant inequity of funding for the southwest Missouri region. Additionally, the talent pipeline red flag is directly affected by dramatic reductions in proven programs, such as customized training, which are designed to help Missouri companies develop and retain a competitive workforce. Increased funding for workforce training programs could make a big impact, not only for businesses in the community, but in the lives of Missouri workers. Adequate funding for education at all levels also helps to move communities forward.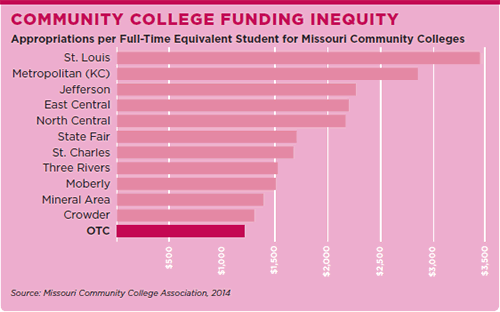 Fragile Support for Economic Development
As noted in past CFRs, concern continues about public support for economic development. Recently, the most controversial local issues have centered on economic development, redevelopment of infill sites and zoning issues. With fewer open "greenfield" sites available for new development, more redevelopment within city limits is likely to increase friction. Springfield's economic development policies need greater clarity and adherence to remove uncertainty for neighborhoods, businesses and developers. Additionally, there is a persistent need to educate elected officials and citizens on how supporting economic development brings long-term regional economic prosperity. Establishing and maintaining a supportive climate is imperative for continued business investment and job creation.
Income & Wages
Identified as a red flag since the 2005 CFR, average wages remain lower in Springfield than in many peer communities. Even adjusting for a low cost of living, which is one of our community's strengths, income and wages still lag. Lower wages do reduce overall business costs, but they also exacerbate other economic problems faced by Springfield's employers, such as attracting talented professionals and overcoming poverty. Despite some increases in average wages over the last decade, Springfield still falls behind its peers and this wage gap is growing.
Impact of Poverty
Since first recognized in the 2005 CFR, poverty in Springfield continues to be a significant social and economic problem. Even with the decline in unemployment, more than half of the children in Springfield Public Schools receive free or reduced-cost lunches (see Education section).
Furthermore, according to the U.S. Department of Housing and Urban Development, Springfield surpassed St. Louis to become the Missouri city with the highest percentage of families in poverty, while also having the lowest per capita income in the state. Poverty creates immense societal problems that our community must address, including increased rates of crime, domestic violence, substance abuse, and reduced educational attainment. It also intensifies and creates significant economic problems. For example, increasing crime rates affect our ability to attract professionals from outside our community, and reduced educational attainment has obvious negative consequences for workforce quality and productivity.
Follow Greene County's progress on business and economic development issues, including household income, poverty levels and more, at
Community Commons
.