PUBLIC ORDER & SAFETY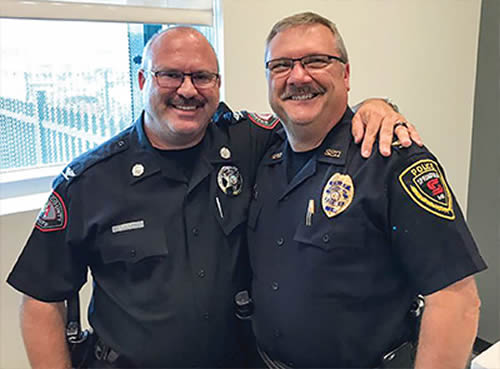 Local agencies connect to tackle ongoing struggles
Law-enforcement agencies have teamed up with nonprofits and community members to confront persistent criminal and societal issues, such as domestic violence and drug abuse.
BLUE RIBBONS
Community collaboration
Resources to address family-violence issues
Agency cooperation
RED FLAGS
Increased demand for service
Increased rate of arson
Jail capacity
Illegal drug use
Preventable fatalities
Public safety is the protection of a community from dangers emanating from crime and disasters, and includes law enforcement, fire protection, emergency medical services and emergency management.
Public safety agencies in Springfield and Greene County are maintaining the status quo for providing services to citizens. Staffing has not increased to the level of meeting the growing demand for services across all area public safety agencies.
BLUE
RIBBONS

Officials have been collaborating with community members to increase safety and security. The Zone 1 Blitz, sponsored by the City of Springfield, established public safety projects to create a safer environment for residents and business owners in Springfield's Zone 1. Based on comments and concerns expressed by citizens, the Springfield Police Department increased patrols (including a pilot foot-patrol project) and traffic enforcement in the area, and extended a registration system for privately owned security cameras to residential cameras as well, thus allowing SPD to use the resulting videos to help solve crimes.
SPD created a Block Watch program for area residents, patterned after Neighborhood Watch, and is offering Citizens Alert Patrol to interested neighborhoods. The department is also working to improve communication among residents through social media platforms such as Next Door. The City of Springfield has proposed a plan to install neighborhood cameras in areas where problems are occurring to provide access to SPD officers and neighborhood volunteers to help deter and detect criminal activity.
The average age for first use of alcohol has increased from 12.55 in 2010 to 13.12 in 2016 through community education, alcohol compliance checks by law enforcement, and the Responsible Beverage Service Training offered through Community Partnership of the Ozarks and Missouri Safe & Sober, which has reached 462 middle and high schools and more than 165,000 students statewide.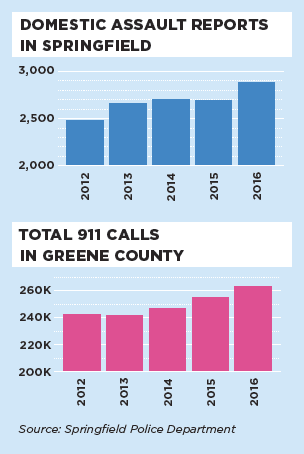 More resources are concentrating on family-violence issues. SPD spearheaded the Family Violence Task Force in 2012 upon discovering an upward trend in violent domestic assaults. Since then, the task force has become a subcommittee of the Violence Free Families Coalition under CPO. Verizon awarded the task force a Hope Line grant of $12,000, which funded the fourth annual "Stop the Violence" conference in 2016, allowing the task force to bring in national experts to share insights and effective strategies with approximately 400 attendees. As expected, more awareness contributed to an increase in the number of reports of domestic assault.
CPO is also collaborating with 16 partner agencies to implement the Triple P–Positive Parenting Program to help decrease the incidents of child abuse and neglect. Following a period of training, accredited practitioners have recently begun implementing those programs for parents. Early results are showing significant improvements in participating parents' confidence in dealing with their children's behavior problems and decreased incidence of emotional problems in children.
The Springfield-Greene County 911 Emergency Communications Department is the primary countywide public-safety communications center, which dispatches for 22 agencies (nine police and 13 fire) within Greene County with state-of-the-art technology and dispatching services. An upgrade to the existing 911 phone system to include text-to-911 capabilities will be completed in 2017.
In addition, implementation of hardware/software upgrades to the existing computer-aided dispatch system during 2017 will lead to increased coordination and enhanced capabilities during high demand events, such as severe weather and disaster-related events.
RED
FLAGS

The Springfield-Greene County 911 Emergency Communications Department is the "first" first responder, as all calls for a police or fire response begin with a 911 call. The volume of calls and phone interactions that the telecommunicators handle are increasing every year.
As the primary law-enforcement agency in the area, SPD has seen an increase of calls for service from 156,000 in 2014 to 176,168 in 2016, and total Uniform Crime Report Part I crimes — homicide, robbery, rape, aggravated assault, burglaries, theft, and auto theft — increased by 8 percent in 2016. A significant increase in property crime, driven by a 32 percent increase in vehicle theft, is a major concern.
The Springfield Fire Department has also seen an increase in calls for service from 15,298 in 2014 to 16,301 in 2016. The City of Springfield saw a significant rise in intentionally set fires in 2016. Fire marshals investigated 76 intentionally set fires, a 21 percent increase from 2015.
On April 3, 2015, the Greene County Sheriff began refusing to accept municipal inmates into the jail because of overcrowding. The City of Springfield originally entered agreements with Miller and Taney counties for housing of inmates; it now contracts with Vernon County for municipal inmate housing. However, this change has not eased the overcrowding at the jail, which is at or above capacity on a daily basis. Greene County continues to contract with multiple counties to house prisoners throughout the region. The capacity for Greene County Jail is 601, and the average occupancy rate in 2016 was 705.
Illegal drug use has been a red flag in every CFR since 2004 and continues to be a major problem. Seizures of methamphetamine and heroin are at all-time highs for the SPD. The department's Special Investigations Section seized 73.1 pounds of meth in 2015 and 57 pounds in 2016. In 2015, this group also seized 397.1 grams of heroin; in 2016, heroin seizures jumped to 4,060.57 grams. Part of the sharp increase in heroin use can be attributed to the diversion of prescription opioids, and while efforts continue with state legislators to pass a Prescription Drug Monitoring Program, the measure failed again in 2017. Missouri is the only state without such a program. But Missouri Gov. Eric Greitens recently signed an executive order directing the Missouri Department of Health and Senior Services to begin work creating such a program. While police will not have access to the database, the program ensures referrals will be made to law enforcement of those flagged by the system.
SPD responded to 99 overdose calls in 2015, and 87 in 2016.
Springfield and Greene County have experienced an increase in preventable deaths. Significant work needs to be done in each of the following areas:
Heroin overdoses — Of the 186 overdose calls that SPD responded to in 2015–2016, 15 were fatal.
Fire deaths — In 2016, the City of Springfield experienced six fire deaths. This is high compared with other communities: Springfield-Greene County averages 22.5 deaths per million, compared to the national average of 13.3 per million.
Traffic fatalities — The number of people killed in Springfield traffic crashes was 21 in 2015 and 19 in 2016. Primary causes include impairment by drugs or alcohol, distracted driving, medical conditions, and those involving pedestrians.
Community Voices
Students at Missouri State University gathered input from the Springfield citizens via Padlet. Respondents voiced concerns about rising crime rates in the Springfield area.
"My biggest concern is probably that some areas close to our neighborhood have high drug abuse."
"Springfield is extremely fortunate to be served by an outstanding group of dedicated public safety professionals. Our law enforcement, fire protection and emergency response personnel are committed to their mission of protecting the community. The Springfield City Council, in recognition of the opportunities and challenges our community faces, has made public safety its top priority and is committed to keeping our community safe."

— KEN McCLURE
MAYOR, CITY OF SPRINGFIELD
For current crime and drug-abuse statistics, visit CARES Engagement Network.