NEIGHBORHOOD & BUILT ENVIRONMENT
Our neighborhoods and green spaces play a crucial role in community health. Crime, transportation, and air and water quality all contribute to the determinant of neighborhood and built environment.
Public agencies and organizations working in these areas expend much time and resources on efforts too numerous to list here. The Community Focus Report white papers on Housing; Transportation; Natural Environment; Parks, Recreation and Leisure; and Public Order and Safety offer greater detail to this broad outline.
Rising crime in Springfield has emerged as a concerning Red Flag. But collaboration among our public agencies and our community—a Blue Ribbon in so many areas—is a key asset to confronting the issue.
Since the last Community Focus Report, local civic engagement has been robust, especially to help guide Springfield's growth. In spring 2019, the City of Springfield launched Forward SGF, an extensive public process to identify community priorities and focus efforts for a 20-year comprehensive plan. While initially strong engagement waned as the pandemic ramped up, Forward SGF is back on track to gather additional input this year.
Engagement around national issues that affect Springfield and Greene County also has been high. In summer 2020, thousands gathered locally—inspired by similar demonstrations nationwide—to protest racial injustice in response to the death of George Floyd, a Black man killed by a white police officer during an arrest. This social justice movement led to Springfield Mayor Ken McClure creating the Equity and Equality Initiative in 2021, which will include a strategic vision for the city. In 2020, Prosper Springfield created the Equity and Prosperity Commission, which will develop an action plan with new goals for poverty reduction.
Springfield-Greene County citizens continued to invest the community by renewing the 1/4-cent sales tax for capital improvement projects and the 1/8-cent transportation sales tax in 2019, extending the sunset provision to 20 years, which will improve project-planning timelines. They also approved a $168 million school bond issue in 2019 and adopted sewer-rate increases in 2016 that support wastewater, stormwater and water-quality protection efforts into 2025. With those investments, as well as integrated planning among institutions and local organizations, clean air and water remain a Blue Ribbon.
Preserving green space for parks, trails and natural areas has been a Red Flag since 2011, with little progress made. However, investment has come through grants, donations and volunteering—including a $4 million donation in 2021 to four Springfield-based environment groups. Other amenities such as the Springfield Art Museum and the National Park Service's Wilson's Creek National Battlefield saw major investments and upgrades.
When the COVID-19 pandemic hit, parks and trails became essential to maintaining a sense of normalcy. In an employee-driven job market, these experiences help attract new talent to Springfield and enhance quality of life for current employees. But reinvestment in the parks system is challenging, with funding for new projects more reliant on grants and donations.
Sports tourism remains a recession-resistant Blue Ribbon for Springfield, which serves as a hub for sports competitions as well as professional teams.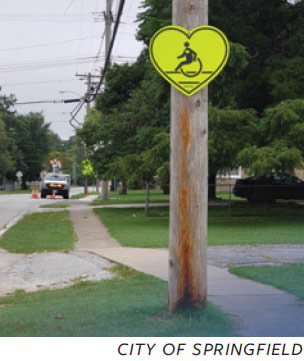 Continued collaboration is credited for new and expanded public-safety resources throughout Greene County. A new collaborative to assist first responders is Burrell Behavioral Health's Rapid Access Unit, designed to deal with crisis-level mental health or substance-use needs. And efforts are underway to reconvene the Greene County Criminal Justice Coordinating Committee to improve the criminal justice system's efficiency.
The Springfield-Greene County Office of Emergency Management is working to ensure community and individual disaster preparedness, cited as a Red Flag in the 2011 Community Focus Report. Enhanced technology—including upgrading the Trunked Radio System, a cooperative effort between City Utilities, Greene County and the City of Springfield—helps first responders work more effectively.
Since 2019, Springfield has seen great strides in multimodalism, where different transportation modes complement one another, and improvements to roadways. But traffic safety is still a Red Flag, with more injury and fatality crashes in 2020 than 2019.
Transit is another recurring Red Flag. When compared to peer cities, CU Transit, City Utilities' bus system, provides more comprehensive service in hours and coverage, but it is not as convenient as other forms of travel.