Through the Lens of Equity
By Francine Pratt, Prosper Springfield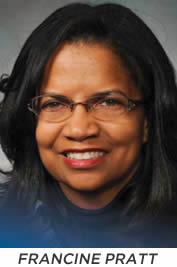 Intentional and action-oriented are the two strategies that come to mind when I think about how the Community Focus Report was developed this year. The report's steering committee used a concept from the Inclusive Excellence Model (created through the Association of American Colleges and Universities), which included an opportunity for me to review most of the white papers drafted for the project through a lens of diversity, equity, and inclusion.
Race and ethnicity are one viewpoint. However, there are several others, such as individuals with disabilities, veterans, previously incarcerated, LGBTQ+, Pell-grant eligible and other intersections. Lived experiences were very important for this report as well as acknowledgment of the importance to recognize and share how diversity, equity and inclusion affects our quality of life in Springfield.
In almost every area of the report, diversity, equity and inclusion are key themes just as in previous reports. So, what makes this report different? The difference is the willingness to have conversations about who is impacted, how we write about the impacts and how we recognize that words matter. Through collaborative conversations, the report and its white papers included an intentional focus to understand causes, effects and impacts of how historical practices affected access to resources and services for Blue Ribbons and Red Flags.
Viewing issues through an equity lens and thinking about it consistently can be a new concept for community leaders in the private, public and social sectors. There are strategies, however, that can align with businesses and organizations to consistently view issues through this lens: the Inclusive Excellence Model with the Targeted Universalism concept.
Inclusive Excellence focuses on business and operational needs that are reviewed based on four main areas of focus:
Access, success and equity
Learning and development
Organizational climate
Organizational commitment
Targeted Universalism uses a concept of inclusiveness of everyone with a shared universal goal. Quantitative and qualitative data are used to understand how individuals in a community currently perform in relation to the goal. Strategies are developed for short- and long-term focused solutions to support different groups within the community to reach the shared goal. For example, our community has two goals—reduce the poverty rate by five percentage points and increase education beyond high school to 60% by 2025.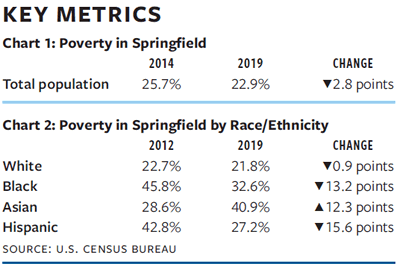 The focus has been poverty reduction first. Chart 1 above has the impact to the poverty rate reduction, which is the universal goal. Chart 2 has the poverty rate reduction by race and ethnicity. With disaggregated data, the community can better see the disparities for each population group. A Targeted Universalism approach was used to develop focused solutions to support the results for the different groups. As one can see, the use of disaggregated data provides a more accurate picture to address, develop and/or understand what is needed to consistently become more inclusive.
Steady and consistent progress, using data, is made through systems alignment that benefits everyone who calls Springfield home. Once there is an understanding with valid data, a business or an organization can then review practices, policies and procedures to ask the question: Who is kept out of participation based on how a business or organization operates?
Some may say everything should be equal. However, when we only focus on equality, some members of our community may still not reach the intended outcome for all. Equality is giving each person the same thing whether they need it or not to reach the intended outcome. Equity focuses on providing what is needed based on the needs of each individual to meet the intended outcome.
Springfield benefits with better job creation, business investment and a growing workforce when the community can create a pipeline from birth to career to meet people where they are in life. When we respect each other's differences, and value anyone and everyone, we can turn more Red Flags into Blue Ribbons.