EDUCATION ACCESS & QUALITY
For education access and quality, Blue Ribbons outweigh the Red Flags, although the issues and challenges overlap with those of other areas. Education is struggling to recruit and keep talent, especially through pandemic-related disruptions. We also faced continuing achievement gaps with regard to race, ethnicity and household income.
Springfield and Greene County offer a strong education system at all levels. The area's universities form part of the backbone of the community, with more than 50,000 college students preparing for life after school, and businesses are eager to tap into this large, in-demand labor pool.
Springfield is investing in children as a community priority, and Springfield Public Schools continues to deliver projects funded by the Proposition S bond initiative. The district finalized construction on all 33 secure entrances, and construction was completed of the Adah Fulbright Early Childhood Center, Delaware Elementary, Sunshine Elementary, Boyd Elementary and Williams Elementary. Administration continues to meet with the Community Task Force on Facilities twice a year to provide updates.
Other educational resources include Ozarks Technical Community College's construction of the property-tax-funded Plaster Center for Advanced Manufacturing and Technology, and the Springfield-Greene County Library District's programs to support the literacy needs of families.
Additionally, the Darr Family Foundation, the Community Foundation of the Ozarks and the Musgrave Foundation have committed more than $1 million over five years to support early learning and professional development in child care, private preschools, Springfield Public Schools preschools and elementary schools.
Springfield's commitment to implement brain-based, trauma-informed programming is beginning to pay dividends. More than 1,500 local educators are now trained in Conscious Discipline, a recognized evidence-based approach. The Council of Churches of the Ozarks' Early Childhood One Stop has refined its Conscious Parenting component, teaching how to support their kids' classroom instruction.
Sustaining these efforts requires a long-term, viable funding stream, and our local legislators have continued to propose enabling legislation that would allow citizens to vote on a sales tax initiative.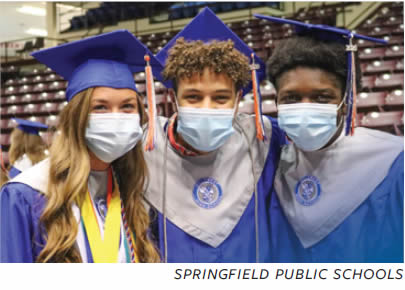 SPS continues to stress the importance of high school graduation rates, emphasizing under-resourced and under-represented students. During the 2019-20 school year, the four-year graduation rate improved to 93.6%, the highest on record, with notable graduation-rate increases for those students.
Expanding learning opportunities have become a vital part of our area's education offerings. For the 2019-20 school year, SPS students earned 4,505 high school credits using virtual courses. The virtual learning team increased course offerings to more than 200 options including a comprehensive high school, alternative programming, Advanced Placement courses, middle-school options, and elementary summer programming during Explore.
Along with the newly opened Adah Fulbright Early Childhood Center, Campbell Early Childhood Center and Shady Dell Early Childhood Center, SPS has provided dedicated space for 600 preschoolers in 2020-21.
The Springfield Board of Education unanimously adopted a new strategic plan Focus Area centered on equity and diversity. As a result of recommendations from the Equity and Diversity Council, the district hired a position responsible for coordinating and recruiting a diverse workforce.
Club Encore, the district's after-school tutoring program for students in reading and math, saw participation of Black, Hispanic/Latinx and students who receive English Language Learner services increase slightly from the prior year. Additionally, 352 students participated in Empowerment Groups, which allow students in fourth through eighth grades to focus on identity development, academic and cultural enrichment, and engage with diverse community members. SPS partnered with Equal Opportunity Schools at Central, Hillcrest and Parkview high schools to ensure under-represented and under-resourced students have equitable access to Advanced Placement and International Baccalaureate courses. A total of 160 under-represented students at those schools were identified for upcoming AP course enrollments.
Despite the investment, student achievement gaps exist, especially for under-resourced and under-represented students. The pandemic magnified these gaps as school leaders and teachers attempted to engage with students and families in virtual, in-person and hybrid learning options. During COVID-19 school closures statewide, SPS partnered with other districts by providing access to virtual course content with 33,410 course enrollments utilized.
A teacher shortage and recruitment challenges are affecting progress. Applications for certified positions in 2020 dropped about 35% from 2019. The 2019 totals, however, include both Launch and Explore certificated applicants, whereas the 2020 totals for certificated applicants are limited to regular teaching positions.