HEALTH CARE ACCESS & QUALITY
During the response to the pandemic, the public health system was center stage. Our community began to interact with public health on a personal basis. The pandemic has provided the opportunity for people to better understand the role of public health in keeping the community healthy.
Springfield's community health resources proved invaluable to the region. CoxHealth, Mercy Springfield and the Springfield-Greene County Health Department worked with the City of Springfield and Greene County to provide accurate information. "First Response," a review of early leadership takeaways, showed how the Blue Ribbons of collaboration and communication across sectors supported an effective response early in the pandemic. As former health director Clay Goddard said: "I think that this will not be the last major public health crisis that we will face in our lifetimes. Nor is this the end of the coronavirus. We have learned a lot from this pandemic and the biggest takeaway is that when challenges arise, we must always be prepared to answer the call."
In March 2020, our hospitals almost immediately shut down elective surgeries, procedures and screening tests at the beginning of the pandemic. The changes in service delivery throughout the pandemic led residents to delay or skip necessary care and preventive screenings. This trend could lead to a decrease in overall health of our community.
Due to the shutdown and quarantine/isolation of community members, mental health and well-being came even more to light. We know from previous pandemics that the negative mental-health effects can last from one to three years. On the upside, this has created a dialogue in our community, leading to a reduction in the stigma and an increased willingness to engage in conversations about mental health. Created in response to the pandemic, Burrell's Be Well Community—a free public resource three days a week on Facebook—emerged as a unique and highly used resource to connect with one another.
"Community health" is an intersection of physical health, mental health, and interaction of economic and social/environmental factors. According to the 2021 County Health Rankings, Greene County ranks 42nd out of Missouri's 115 counties based on health outcomes and health factors (areas that influence health). This is up from ranking 61st in both 2018 and 2019, but still lower than rankings in the 30s prior to 2018. This signifies progress, but a long way to go to reach our desired health levels.
Collaboration among health care partners was enhanced by the COVID-19 pandemic as providers worked to control and contain the virus through multiple efforts. Community partners passed policies and ordinances to ensure the health of our community. In one initial effort, CoxHealth, Jordan Valley Community Health Center, Mercy and the SGCHD worked together to deploy a community testing site for COVID-19.
That collaboration continued throughout the response. The Mercy health system was the first in our area to receive vaccine, and worked with Cox-Health to share supply. While the logistics didn't work out, this type of collaboration was evident on multiple fronts.
Many other organizations worked with the community health partners to respond to needs by providing housing, food, child care services, care for the ill and affected, and support for health care workers.
Amid the pandemic, new initiatives emerged. The Have Faith Initiative, which comprised leaders of the faith community, the health department, the City of Springfield and Greene County, met frequently to address spiritual needs.
Outside of the COVID-19 response, collaboration is strong and thriving. Following 2019's Community Mental Health Assessment, which identified access to behavioral health and substance-use services as a key need for our area, partners from health care, behavioral health and the criminal justice system came together to launch Burrell Behavioral Health's Behavioral Crisis Center-Rapid Access Unit, a "Success Story" featured in both the Community Health and Public Order & Safety topical white papers.
In early 2020, community leaders and partners addressed broader health needs defined by the Community Health Needs Assessment. The 2021 assessment will include a larger service area and numerous new agencies. Through this process, partners will create an action plan to address community health needs. For instance, the Ozarks Health Commission in this assessment identified children as our most vulnerable population for health disparities based on socioeconomic class or demographic group. Greene County's 92,035 children ranked 70% more vulnerable than children in other counties.
Health care systems are our area's largest job drivers, employing approximately 22,612 employees between CoxHealth and Mercy Hospital Springfield; the entire health care sector, which offers every specialty listed by the American Medical Association, employs nearly 37,500 people for a $4.5 billion annual economic impact. In 2019, Mercy Heart Hospital Springfield completed a $110 million project to bring its cardiac services under one roof as the most advanced in the region. This hospital became critical in the care and recovery of some COVID-19 patients. Mercy's expanded Kids Emergency Room provides specialized emergency pediatric care.
Our health care infrastructure demonstrated agility during the pandemic. CoxHealth transformed the fifth floor of CoxSouth tower into a COVID-19 unit in a matter of weeks. In January 2021, Jordan Valley Community Health Center announced the expansion of a ninth location at Grand Street and Kansas Expressway. This site started as a community vaccination hub through a partnership between Jordan Valley and the Springfield-Greene County Health Department.
With a nationwide shortage of health care workers, our community is working to train health care providers. Enrollment in Mercy's College of Nursing and Health Sciences of Southwest Baptist University is about 700 students. The Missouri State University Care Clinic provides education and offers hands-on training for students in health sciences degree programs at MSU. Cox College expanded and renovated its central Springfield campus to train more students. CoxHealth and Burrell Behavioral Health partnered with Ozarks Technical Community College to train and employ medical assistants and behavioral-health support professionals, respectively.
In the 2019 Community Health Needs Assessment, Springfield's high prevalence of tobacco use resulted in major concerns related to lung and cardiovascular disease and mental health. Community partners worked strategically on upstream policy-based approaches to tobacco-use prevention. In mid-2019, Springfield City Council passed the Tobacco 21 ordinance to prohibit tobacco and vape sales or provisions to anyone under 21.
It often takes multiple approaches to make significant changes. The Greene County Tobacco and Vape Prevention Coalition formed to decrease vaping among youth. Springfield and Greene County have seen a 2.9% decrease from 2018 to 2020 among students who reported using vaping products, according to the Missouri Student Survey.
The 2019 Community Mental Health and Substance Use Assessment spotlighted the need to address rising mental health problems and substance use. In October 2019, a dramatic spike in opioid drug overdoses led to as many in one 24-hour period as typically seen in a month. The fire, police and health departments, first responders, community health and substance-use recovery providers came together to respond. Better Life in Recovery trained the community on using Narcan, an emergency treatment for suspected opioid overdose. New resources also focus on follow-up support and long-term recovery resources for overdose survivors.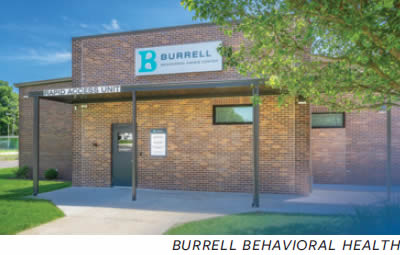 According to the 2021 County Health Rankings, Greene County residents average 4.9 days in a 30-day period in which they are mentally unhealthy. This is higher than the state (4.5) and national (3.8) averages. Community providers continue to collaborate to address mental health and substance use; Burrell psychiatrists, for instance, also work in Mercy's Marian Center, an inpatient behavioral health unit, and staff beds at CoxHealth's adolescent inpatient location at Cox North Hospital. Burrell also expanded its walk-in Connection Center in 2019.
Support for depression, anxiety and mood disorders includes increased awareness and assessment of perinatal mood disorders. The Maternal Mental Health Network was created in 2019 for mental health services directly related to maternal infant health in southwest Missouri. The 2019 Community Focus Report noted that 15.22% of Springfield adults reported being uninsured. Although access to medical care is still a red Flag, the number of uninsured decreased slightly to 13.09% of adults aged 18-64, according to the Missouri Department of Health and Senior Services.
Access to care influences quality-of-life measures: Adults 18 years or older who reported having poor or fair health were at 17.4%, compared to Missouri as a whole at 18.1%. County Health Rankings reported Greene County's rate of patients to primary care physicians was 1,040 to 1. Missouri's overall rate of patients to primary care physicians is 1,420 to 1.
County Health Rankings also show our ratio of patients to dental providers at 1,300 to 1, with the overall Missouri patient-to-dental provider ratio at 1,670 to 1. A shortage of dental providers may stop residents from seeking routine dental care, or increase emergency room visits for non-traumatic dental complains, making access to dental care an ongoing red Flag. While Greene County's provider-to-citizen ratio for mental health providers is better than the rest of the state, access remains a challenge amid a growing need even before the pandemic.