Protecting Environment Will Preserve Value as Economic Engine and Outlet for Healthy Activities
With the pandemic highlighting the value of outdoor activities for many, local leaders emphasize the need for conservation, protection and mitigation efforts to maintain the region's natural assets, according to a new Natural Environment white paper released today from the Community Focus Report.
This year, the Community Focus Report—the biennial report card of strengths and challenges in Springfield and Greene County—is releasing detailed white papers focused on the 11 key areas ahead of the printed report, which will be released on Oct. 21.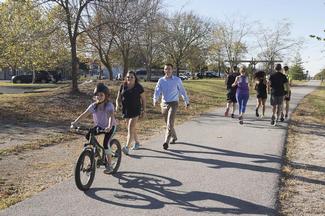 Considered among Springfield and Greene County's greatest assets, area trails, rivers and lakes promote community health and quality of life, and serve as an important economic engine—a vital Blue Ribbon—in attracting visitors and new businesses for outdoor pursuits including hunting and fishing.
That's why conservation, clean air and clean water are community priorities, and why local organizations work with state and federal government agencies to protect and improve our resources. A shining example of that is the recent draft of James River Basin Partnership's James River Watershed Management Plan submitted for approval to the Environmental Protection Agency in 2020. This is the first watershed plan—a roadmap for water-quality protection and improvement—for the entire James River Basin, from the headwaters in Webster County to its mouth at Table Rock Lake.
The Watershed Committee of the Ozarks has begun the Watershed Conservation Corps, which offers entry-level jobs to young adults seeking to work in the conservation field. WCC projects include restoring and preserving glade, prairie and forest habitats, and constructing sustainable multiuse trails throughout southern Missouri and northern Arkansas. The WCC credits early success to interest and investment by Bass Pro Shops, with additional partners in the National Park Service, the U.S. Forest Service and the Missouri Department of Conservation.
Another Watershed Committee project is reshaping the use of the Fellows Lake, the community's major water supply lake in northern Greene County. A new mission connects people to the lake with more activity opportunities, which also will increase revenue streams. In 2019, the main 10-acre area of Fellows Lake was named Miller Park for retired City Utilities General Manager Scott Miller. The addition of Dirt 66, a multiuse soft-surface biking-hiking trail system, along with improved playgrounds and a new marina, will enhance use and enjoyment of the area. In 2020, CU chose the Watershed Committee of the Ozarks as its community partner to operate the marina, protect the resource and provide educational and recreational experiences to the community.
Although Springfield continues to enjoy abundant, inexpensive clean water for drinking and recreation, there are concerns about long-term water sources, first articulated as a Red Flag in the 2009 Community Focus Report. That includes efforts to monitor Pearson Creek, which enters James River. CU has expressed concerns about excessive levels of E. coli bacteria and other organisms in Pearson Creek and James River that may impact quality. The JRBP and WCO also focus on efforts to keep trash out of recreational rivers. Public engagement about conservation, water quality and keeping areas clean and free of invasive species and diseases continues to be vital.
The complete list of Blue Ribbons and Red Flags for Natural Environment can be found in the white paper.
Find this article at