Shortage of Safe, Affordable Housing Remains a Red Flag in Springfield
Housing instability and the shortage of safe, decent and affordable housing remains a Red Flag for Springfield and Greene County, according to a new white paper (pdf) released today from the Community Focus Report focused on housing.
This year, the Community Focus Report—the biennial report card of strengths and challenges in Springfield and Greene County—is releasing detailed white papers focused on the 11 key areas ahead of the printed report, which will be released on Oct. 21.
The white paper (pdf) notes that housing advocates, city leaders and area agencies are working together to meet the challenge of a housing shortage in the area.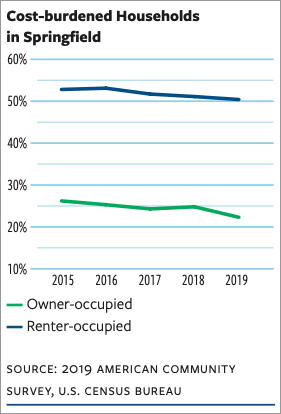 One new resource is Community Partnership of the Ozarks' O'Reilly Center for Hope. The center, with 20 on-site partner agencies, provides education and resources for affordable housing, financial literacy and essential services. That all those services are available in one location helps remove barriers. In addition, strong civic engagement at the individual and local government levels continues to be essential in working toward solving the issue of housing shortfalls. In fact, the Springfield City Council includes revitalization for safe neighborhoods and affordable options for quality housing among objectives for meeting Quality of Place and Economic Vitality, two listed priorities for 2021.
There's hope these and other efforts at the local and state level will improve housing options for struggling households and for people who are homeless. While Springfield boasts a cost of living lower than the national average, a Greene County resident would have to work 68 hours a week at minimum wage to afford a two-bedroom rental home at a fair-market rent payment of $836 a month. And according to annual counts by CPO's Ozarks Alliance to End Homelessness, approximately 500 people experience homelessness in our community on any given night.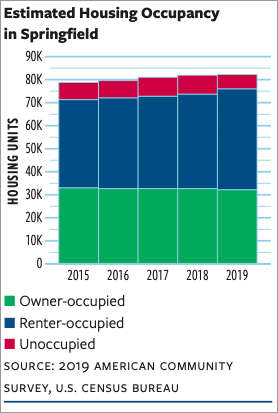 The need for housing has been exacerbated by health and safety concerns for those without homes as COVID-19 infections ramped up starting March 2020. In addition, supply chain issues related to the pandemic slowed construction while increasing construction costs, further reducing housing inventory.
In spite of federal stimulus funds, the pandemic also had economic impact on housing security. As of July 13, 2021, agencies in Greene County have distributed more than $2.6 million in Emergency Rental Assistance Funds out of the $8.7 million-plus available to cover rent and utility arrears in addition to other costs. Overall, low-earning households often must choose which needs to meet first, resulting in stress on employment, childcare, nutrition, education and other factors that impact community well-being.
The complete list of Blue Ribbons and Red Flags for housing can be found in the white paper. (pdf)
Find this article at