Though Down from July Peak, Springfield Hospitals Still Seeing Dozens of COVID Patients
With the availability of COVID vaccines, business have reopened, and families and friends have reconnected. But there is still work to be done.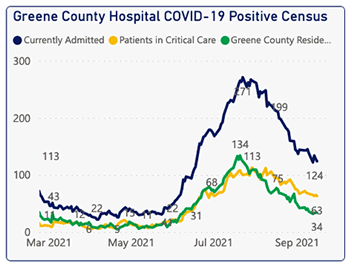 COVID-19 cases—driven by the new Delta variant—spiked locally in July, with severe patients flooding local hospitals. Though the number has dropped from the peak of 271 patients on July 23, there were still 124 COVID patients in Greene County hospitals as of Thursday, Sept. 16. Most of those hospitalized were unvaccinated.
According to the Springfield-Greene County Health Department's dashboard, 48.5% of county residents age 12 and older have been fully vaccinated, up almost 10 percentage points from July.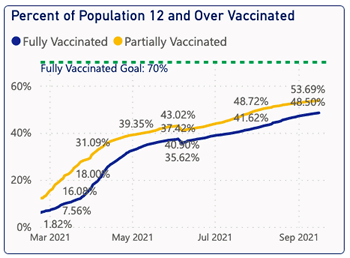 Help your loved ones get fully vaccinated. The Springfield-Greene County Health Department has an interactive map to help them locate the nearest clinic. Information is also available at the COVID Call Center at 417-874-1211.
Because of the COVID-19 pandemic, the 2021 Community Focus Report will look vastly different. None of the 11 topic areas was left untouched by the virus that has ravaged Springfield, Greene County and the rest of the country.
The biennial report card of strengths and challenges in Springfield and Greene County is releasing detailed white papers focused on the 11 areas ahead of the printed report, which will be released on Oct. 21.
Find this article at