What is Springfield? Share Your Thoughts at sgfengage.org
The Community Focus Report is seeking community input regarding the area's strengths and challenges.
Citizens of Springfield and Greene County may visit https://sgfengage.org to answer the question "What is Springfield?" Responses will help the report's committees identify Red Flags (challenges) and Blue Ribbons (strengths) for different sectors of the community, including housing, childcare, health care and education.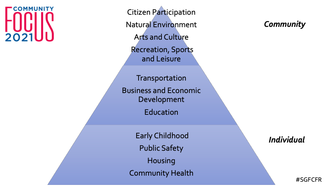 The biennial Community Focus Report, a joint project of the Community Foundation of the Ozarks, United Way of the Ozarks, Springfield-Greene County Library District, Junior League of Springfield and Springfield Area Chamber of Commerce, has 11 committees made up of community leaders from around Springfield and Greene County who identify the three major Red Flags (challenges) and Blue Ribbons (strengths) for each topic as of 2021.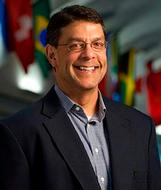 Jonathan Groves, professor at Drury University, serves as facilitator for the project's steering committee, while Morey Mechlin serves as chair.
The COVID-19 pandemic has shaped the 10th edition of the report, including its format. This year, the report will have an updated website and accept online responses, and the Red Flags and Blue Ribbons will be released in a series of white papers and podcast episodes this summer. A condensed report will be released in October.
Earlier editions of the Community Focus Report are available at springfieldcommunityfocus.org.
Find this article at